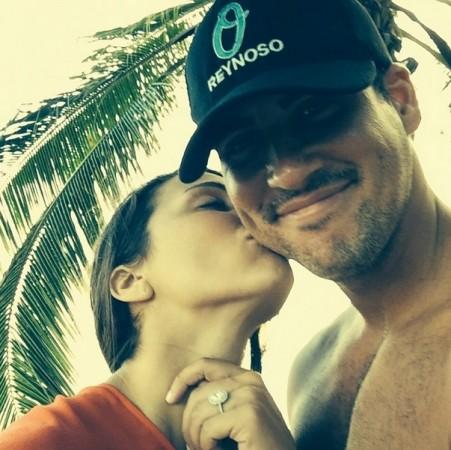 "Bachelorette" season 10 star Andi Dorfman is reportedly unhappy with the direction her life is taking, and a new report claims that the former assistant district attorney is constantly nervous that her fiancé Josh Murray would dump her.
Although Dorfman and Murray got engaged at the end of season 10 of the dating reality show, their relationship has been under constant scrutiny ever since contestant Nick Viall revealed that Dorfman slept with him before accepting Murray's proposal.
Since then multiple reports have come out claiming that Murray and Dorfman are together just for publicity sake, and the latest buzz indicates that the couple have gone their separate ways.
"Nothing is going the way Andi planned right now," a source told Celeb Dirty Laundry. "She is supposed to be planning her wedding with 'Bachelor' producers but everything is on hold because she and Josh are taking a break."
The couple is believed to be on a temporary break as Murray wanted to take some time off and analyse his relationship. "Josh thought that after 'The Bachelorette' ended, he and Andi were going to be a normal couple, but all of the stress of the tabloids has worn him down. He is beginning to think that the rumors are true and all Andi cares about is the fame," yet another Celeb Dirty Laundry source added.
Dorfman quit her job before filming of "The Bachelorette" ended, and at the time there were speculations that her ultimate aim was to make it as an actress. However, things haven't been going as planned, both in the professional as well as personal front.
"She quit her job and hired a manager, and the appearances aren't rolling in like she thought they would. And, to top it off she has to wake up every day and wonder 'Is Josh going to leave me today,'" the Celeb Dirty source noted.
The strain in her relationship is reportedly affecting the quaity and quantity of work coming her way, and Celeb Dirty Laundry believes that this could be why she was passed up at the last moment as a possible contestant on "Dancing with the Stars."
The debacle with Viall might have resulted in her losing out on the opportunity to compete in the dancing reality show, the website speculated, adding that Dorfman's career will be doomed if she splits up with Murray.