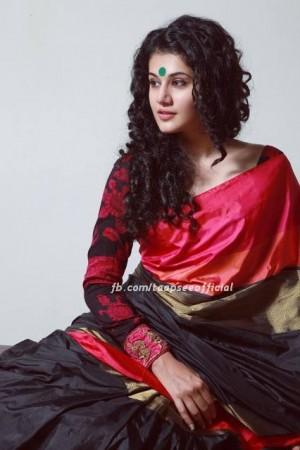 Popular South Indian actress Taapsee Pannu has revealed that she was in love with a guy when she was in Class IX, but she has not been with anyone else after she split with him. The 27-year-old star says that she will think of marriage only after she has enjoyed her acting career to the fullest.
Taapsee Pannu will next be seen alongside Akshay Kumar in his Bollywood film "Baby", which is slated to release on 23 January. The actress is now busy promoting the film. In an interview with The Times of India, she spoke about the movie as well as her relationship and marriage plans.
The actress has been linked with some of her co-stars down south, but often denied the rumours. She admitted to having a love affair during her school days, but denied dating any other guy after he broke up with her. It is her way of taking revenge.
"My first relationship was the only one when the guy broke up with me and that was a big hit to my ego. After that I made sure that no guy will do that to me. I can get a little revengeful and I made sure that I took my revenge in my way with that first guy, who calls me till date to remind me of the revenge ka effect," the actress told TOI.
Talking about her marriage plans, the "Chashme Baddoor" star says that she wants to enjoy her career before starting a new life. "It will happen when I am done with acting and have enjoyed this profession enough. I will then up root myself from this country and profession and start a new life from scratch. I want to start a new life and want to do more in life than just being an actress," She said.
Meanwhile, Taapsee also hinted that she might quit acting and settle down in a foreign country after marriage. "Whether I get married or not, I always wanted to get out of India as after becoming an actress, you can't live a normal life here. I don't want so much attention on me when I start a new life. I any ways have no strings attached and get detached very easily," the actress added.