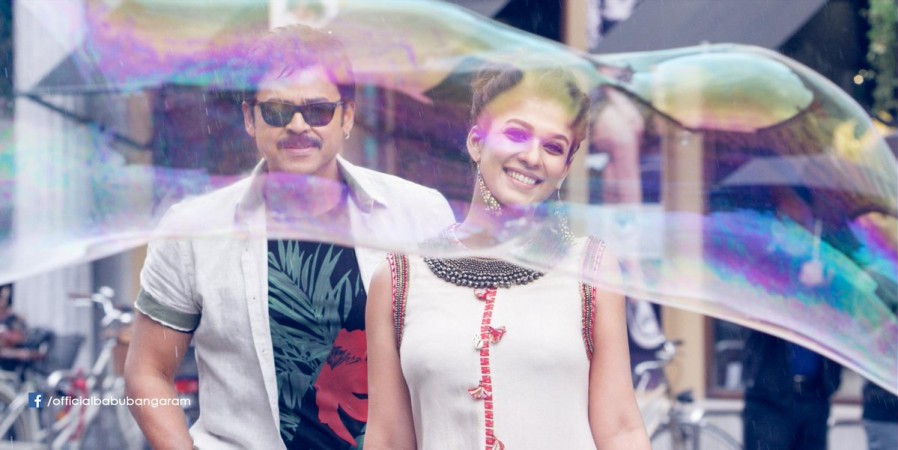 "Babu Bangaram" opened to a fantastic response in the premiere shows, but dropped at the U.S. box office over the weekend. The movie struggled to cross a half million mark in three days.
The huge hype surrounding "Babu Bangaram" helped its makers sell its overseas distribution rights at a record price. Blue Sky Cinemas, which acquired its threatrical rights, booked around 120 screens across North America, in a bid to cash in on Venkatesh's popularity and Maruthi's brand value. The distribution house also held premieres of the movie in around cinama halls.
"Babu Bangaram," which had good advance booking, received fantastic response in the premiere shows and collected $177,005 from 95 screens at the U.S. box office on Thursday. This is the highest collection for a solo movie featuring Venkatesh. After seeing the massive response, trade experts predicted that the movie would fare well over the weekend and inch closer to the $1 millon mark in the next three days.
However, the Maruthi Dasari-directed action romantic comedy film garnered mixed talk from the audience and the word of mouth took a toll on it business on Friday. "Babu Bangaram" showed some amount of growth on Saturday, but it was not up to the mark. Its collection dipped considerably on Sunday.
"Babu Bangaram" has collected $410,564 (Rs. 2.75 crore) at the U.S. box office in the first weekend. The movie is estimated to have earned Rs. 1.24 crore for its distibutors in three days. Leading trade analyst Taran Adarsh tweeted: "Telugu film #BabuBangaram - USA: Thu previews $ 177,005, Fri $ 76,390, Sat $ 107,818, Sun $ 49,351. Total: $ 410,564 [₹ 2.75 cr]. @Rentrak."
Blue Sky Cinemas has reportedly shelled out Rs 2.25 crore on its international distribution rights. "Babu Bangaram" has recovered 60 percent of the investment of the distributors from its theatrical run in the U.S. in three days. The movie was also released with a limited screen count in Australia, New Zealand, Africa, Germany, UK, Canada, Malaysia and a few middle eastern countries.
"Babu Bangaram" is estimated to have earned Rs 15 lakh from its screening in international markets other than the U.S. The Venkatesh and Nayanthara starrer has earned a share of Rs 1.39 crore for its distributors in three days. The distribution house is confident that the film would recover 100 percent of its investment and earn good profit.