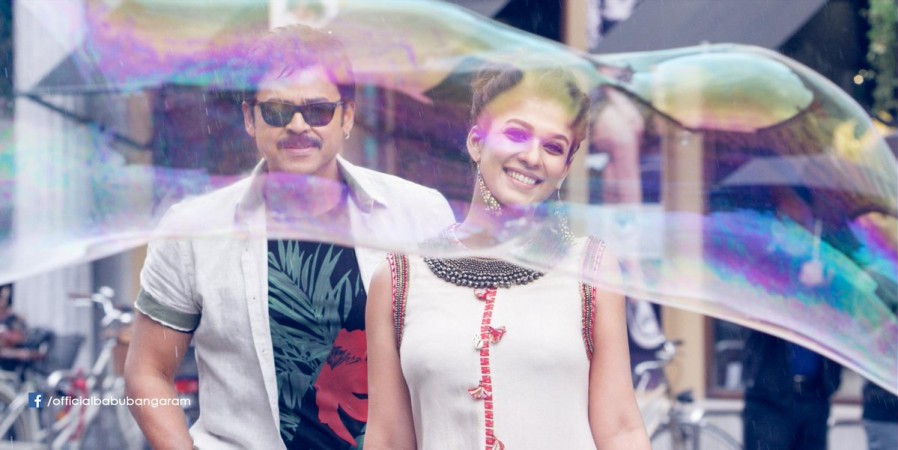 The teaser of director Maruthi Dasari's next venture "Babu Bangaram," featuring Daggubati Venkatesh and Nayanthara in the lead roles, hints that the movie is going to be a class and mass entertainer.
"Babu Bangaram" is a romantic comedy written and directed by Maruthi Dasari. Venkatesh released its first-look teaser on his Facebook page as a tribute to his father, late filmmaker D Ramanaidu, on his 80th birth anniversary. The "Victory" actor posted the teaser and wrote: "Here's Babu Bangaram Teaser... Hope you all like it."
The teaser of "Babu Bangaram" does not offer much hint at its story, but it promises a beautiful romance drama. Venkatesh is playing ACP Krishna, while Nayantara appears as his love interest in the movie. The video offers a glimpse of their roles and the sparkling chemistry.
As per its teaser, "Babu Bangaram" has rich and colourful production values. The amazing background score and beautiful picturisation should be among the highlights of the movie. The video also offers a glimpse at other commercial ingredients like action, comedy and punchlines. The movie is expected to be a wonderful treat for both class and mass audience.
The 48-second video has got 3 lakh views, 24,000 likes, 6,000 shares and 1,300 comments on the Facebook page of Venkatesh in six hours. The teaser of "Babu Bangaram" was also released on the official YouTube platform of Maruthi Dasari. The video has received 60,000 views, 2,200 thumbs up, 30 thumbs down and 165 comments on this platform in six hours. Its makers are thrilled over the response.
The first-look video of "Babu Bangaram" is creating buzz on Twitter as well. After watching it, many shared their opinions about the teaser and as well as the YouTube link. Now, it is going viral in social media. Here are some comments about the teaser posted by viewers on Twitter:
SKN ‏@SKNonline
Venky is ageless Nayan is flawless Maruti is marvellous. @GhibranOfficial ur BGM is top notch #BabuBangaramTeaser @RIP_apart captured the beauty in a nice way Prods Naga Vamsi PDP Prasad 1 mre hit
idlebrain jeevi ‏@idlebrainjeevi
Love, Comedy and a bit of action! Welcome Victory Venkatesh as ACP Krishna #BabuBangaramTeaser Looks superb!
VamsiKaka ‏@vamsikaka
Victory Venkatesh is Back.. Fantastic Teaser #BabuBangaramTeaser
ChristopherKanagaraj ‏@Chrissuccess
#BabuBangaramTeaser is lovely, we love to see venky in such a role :)
RK ‏@chvrkraju
Promosing teaser .. Venky looks superb .. entertainment unlimited la undi bomma .. Looking forward #BabuBangaramTeaser
Manaswi honey ‏@honeywithu
#BabuBangaramTeaser is too good. Seems like a perfect mix of Romance,Comedy,Action. Venky is back
Harsha ‏@iHarshaC
Very cool #BabuBangaramTeaser. Vintage Venky is Back! Looking forward for this one. #BabuBangaram
King ‏@AyeSinamika
Super awesome class and last part mass teaser #BabuBangaramTeaser Nayanthara looks stunning