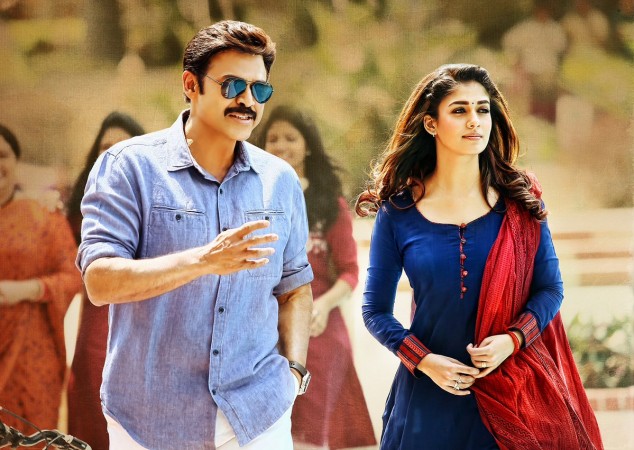 Ghibran's song "Mallela Vaanala" from director Maruthi Dasari's "Babu Bangaram," starring Victory Venkatesh and Nayantara, has received fantastic reviews from music lovers.
It was reported earlier that the audio album of "Babu Bangaram" would be launched at a grand music release function in Hyderabad on July 9. But just a day before the event, the makers postponed the release date to July 19 due to unknown reasons. They planned to release a single track from the film.
Director Maruthi Dasari tweeted on July 8: "#BabuBangaram feel gud song launching tomorrow eveng by 8.45 pm...in red fm...enjoy @GhibranOfficial musical." He added on the next day: "#BabuBangaram song launching....at 8.45pm. #BabuBangaram song launch exclusively at @Redfmhyderabad with hyd ka loud speaker #RjPriyanka @adityamusic."
Music director Ghibran, who has composed tunes for "Babu Bangaram," also informed his Twitter followers about the single track launch. He tweeted, "#BabuBangaram single launch by today evening 8:45PM.Hope you like it :) #ghibran #Nayanthara #Venky." On July 9, he posted the YouTube link of the song and wrote: "Here is the Single "Mallela Vaanala" from #BabuBangaram ☺️ #Venkatesh #Nayanthara #MalleleVaanala #ghibran."
Ramajogayya Sastry has written the song "Mallela Vaanala" for "Babu Bangaram," while singer Naresh Iyer has sung the track. Aditya Music, which has acquired its music rights, released the song on its official YouTube channel. The soundtrack has received 134,358 views, 1,585 thumbs up (likes), 39 thumbs down (dislikes) and 190 comments on YouTube as of 10:30 a.m. on July 11.
The song "Mallela Vaanala" has become an instant hit on the net and its YouTube link has gone viral on social media. Most of the music lovers, who have commented on the song "Mallela Vaanala," have praised the team. Many of them describe it as a melodious track with trendy lyrics, foot-tapping beats and beautiful voice.
Social networking sites like Twitter and Facebook have been flooded with positive comments for the song. A listener named Gupta tweeted: "Lyrics & Music gud melody song @GhibranOfficial bro waiting for full album #BabuBangaram."
G Sriniwasa Kumar, the publicist for "Babu Bangaram," tweeted: ".@GhibranOfficial's Music getting instant appreciation."
Comedy actor Vennela Kishore tweeted: "Sweet Number from @GhibranOfficial for #BabuBangaram .. Can we call it 'Ghibrani ka meetha'.."
The bosses of Aditya Music are thrilled over the massive response from the audience for the track "Mallela Vaanala." They wrote on its official Twitter handle: "@GhibranOfficial 's Superhit Melody #MallelaVaanala Song crossed 1Lakh Views Less Than 20hrs."