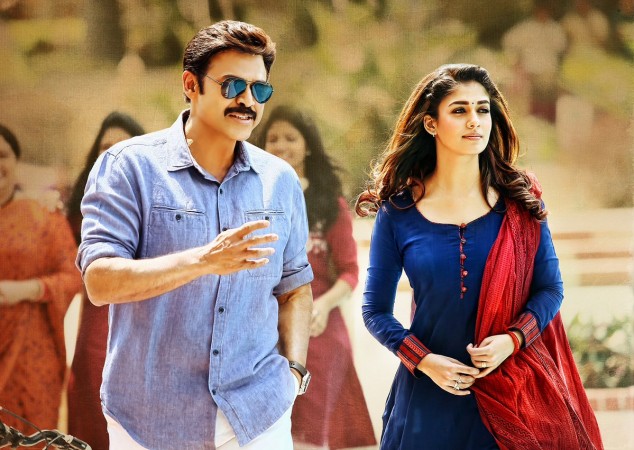 Venkatesh-Nayanthara starrer Telugu film "Babu Bangaram" was released in theatres around the world on Aug 12 and has received mixed reviews and average ratings from the critics.
Director Maruti Dasari has written the story and screenplay for "Babu Bangaram," which is high on action, romance and comic quotient. Krishna (Venkatesh) is a police officer and he falls in love with a girl named Sailaja (Nayanthara), whose father (Jayaprakash) is an accused. But Sailu splits from him after she learns that he loves her only for arresting her father. What happens next forms the crux of the story.
"Babu Bangaram" has a routine story, but Maruthi's screenplay laced with masala elements is interesting. The first half has a couple of predictable twists and turns, but some comedy scenes keep the audience engaged in the first hour of the movie. The story runs on a serious mode in the second half, but this portion lacks novel elements. The climax is good, say the critics.
Venkatesh has delivered a superb performance in "Babu Bangaram" and he impresses the audience with his comic timing and action. Nayanthara's glamour and her chemistry with Venky are awesome and big assets of the movie. Pruthivi, Brahmanandam, Posani Krishna Murali and others have done justice to their roles, say the critics.
"Babu Bangaram" has decent production values. Ghibran's music, Maruthi's screenplay, Darling Swamy's dialogues, action scenes and stunning camera work are the attractions on the technical front, add the critics. The movie has been rated an average of 2.43 out of 5 stars. We bring you some critics' verdict and ratings for the film. Continue to see them in the "Babu Bangaram" review roundup:
Babu Bangaram shows how a film can fall flat if it banks only on a quirky character trait and doesn't bother with a reasonably good plot or a coherent narration. The 'ayyo ayyo...' line lingers, because it's apt to describe the experience of watching the film.
With a wafer-thin plot-line and forced humour, Babu Bangaram is dull and directionless. At the end of the film, the viewers feel like chanting Venkatesh's punchline in the film -- Ayyo Ayyo Ayyayyo!
Babu Bangaram is aimed at being an all-round entertainer where there is something for everybody. Hence the director has filled the film with entertainment threads with Pruthvi dominating first half and Posani doing his bit in second half. It's high time for big heroes to stay away from subjects in which they make villains bakras in second half. In spite of formulaic treatment, Maruthi has generated enough laughs. On a whole, Babu Bangaram is a commercial entertainer with some box office potential.
Babu Bangaram showcases Venky in yet another interesting role after a long time. Venky's performance in various shades and decent comedy during the first half are huge assets. But the film takes a back seat during the second half as things get a bit serious. However, Maruthi deals things cleverly and ends the proceedings on a interesting note. Finally, If you keep your expectations in check and ignore the routine story line, you can happily watch this time pass entertainer with your entire family.
Venkatesh fans will probably cheer at the references to his old films and maybe his action scenes. But for those who are looking for a good film from Maruthi, Babu Bangaram doesn't offer anything exciting and is a big let-down.