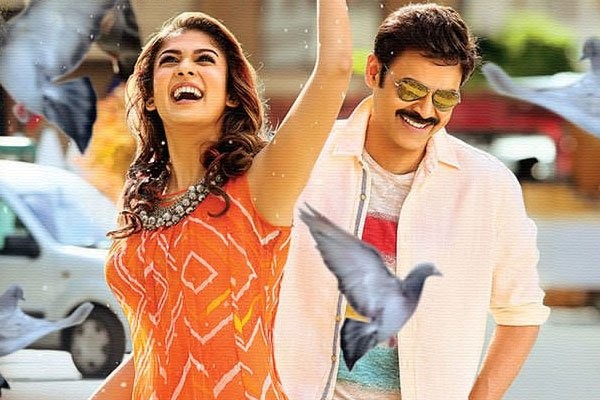 Director Maruthi Dasari's Telugu movie "Babu Bangaram," featuring Victory Venkatesh, Nayanthara (Nayantara) in the lead roles, has received positive reviews from the audience.
"Babu Bangaram" is a romantic action film with a good dose of comedy. Maruthi Dasari has written the story and screenplay, while Darling Swamy has penned the dialogues for the movie. The first half of the film has a clichéd story, a couple of songs, some comedy and romance sequences to keep viewers entertained. Some action scenes are good in the second half and the movie ends with a lighter-vein climax, say the audience.
Venkatesh has played double roles -- Jamindar Rayalu and his grandson ACP Krishna in "Babu Bangaram" and has done justice to both. He impresses everyone with his comedy and action and his performance is the highlight of the film. Nayanthara has done justice to her role and her chemistry with Venky is one of the highlights. Sampath Raj, Murali Sharma, Posani Krishna Murali, Vennela Kishore and Prudhviraj are also the assets of the movie, say the viewers.
S Naga Vamshi and PDV Prasad produced by "Babu Bangaram" under the banner Sitara Entertainment and they have ensured good production values for it. Ghibran's songs and background score, Richard Prasad's beautiful picturisation, brilliant choreography of action scenes are the big attractions on the technical front.
We bring you some viewers' verdict shared on Twitter. Here is the live update of "Babu Bangaram" movie review by audience:
Das CH ‏@chs_dass
#BabuBangaram hilarious 1st half with few emotional scenes venky comedy timing is back,nayan looks stunning and gorgeous especially in songs. #BabuBangaram prudhvi comedy is one of the major highlight in 1st half... excellent direction by maruthi.
Ravi kiran ‏@kinnuPSPK
Climax fight pure fans stuff Fights, 2-3 songs, few entertaining scenes in 1st half thappa rest boring #BabuBangaram Strictly Below Avg.
Abhilash reddy ‏@abhilashreddykp
Average first half. predictable scenes..comedy in parts.. Cinematography Nayanathara #BabuBangaram
Vinod Varma ‏@avgkvarma
First half lo #BabuBathai and interval bang are the only saving grace..few entertaining scenes. #BabuBangaram..depends on second half..
MegaStar B'day Month ‏@sainath_sangam
Entertaining n emotional 1st half!! #Venky screen presence !! Prudhvi comedy scenes r gud!! Abv avg so far!! #BabuBangaram
Dhruva ‏@megastar2222
Average 1st half #BabuBangaram Konni comedy scenes bane vunnai !! Venkateso song bit keka..)
Cinema Freak ‏@cinemafreak143
#BabuBangaram First Half Super..Interval Big Twist..Have To See What Happens In Second Half!!
Survi ‏@PavanSurvi
Ayo..Ayyo.. Ayyayo!! Even Post Interval #BabuBangaram keeps on moving at a bumpy pace, with nothing promising. Cliché, predictable, unfunny, and filled with weak-generic-annoying-clunkily written characters, #BabuBangaram is terrible.
Movie Talkies ‏@MovieTakies
#BabuBangaram review: Another Run-Of-The-Mill ordinary comedy entertainer which fails to entertain ! 2/5
krupa khan™కృపా ఖాన్ ‏@Krupa7Superstar
#BabuBangaram im waching Venkatesh preformance superb Comdy awesome Musice fablous 1st off so half 2st off good Total don t miss it movie
Sri Harsha Vardhan
‪#‎BabuBangaram After a Long Time Venky Style lo Performance...Superb 1st Half Just Ok with jali and spoofsRoutine Formula with comedy INTERVAL gOOD 2nd Half No Jali.. Posani - Venky Comedy Superb haha . Lovely Climax with Bobbili Raja Song Good Fights mana telugu style lo .. esari Maruthi Content miss ayyedu..Overall Babu not so Bangaram Movie ok Good with entertainment.. 3/5 Venky Rocks ...
RAMESH BABU ?@PRINCE_RAMESH1
#BabuBangaram 1st half full comedy entertainment #Venkatesh is back
Raj C M ?@RcMullapudi
#BabuBangaram First Half Okay - pass second half started #friends review
Troll Tollywood ‏@Troll_Tollywood
First half done Good so far! #BabuBangaram Has enough stuff to be a hit! Bobbili raja is back.. That climax part was super hilarious Enjoyed it on a whole #BabuBangaram Good first half Slightly okayish second half , entertaining at parts.. Pre climax nd Climax boosted it all up though, #BabuBangaram
Raakhi knl .. ‏@raakhi_knl
#BabuBangaram 1st half Not Bad ..... Next 2nd half ..
Deepak ‏@deepuzoomout
#BabuBangaram DOP mathram ✌️✌ the best in recent years. Addiripoindi lighting, framing. Richard prasad
Darling ‏@muneervarma
1st half done.. Pretty Average stuff #BabuBangaram Average..Except very few laughs nothing much to offer..Happy ga tv lo esinapudu chuskochu..Maruthi missed his comedy big time #BabuBangaram
Sravanth Reddy ‏@sravanthreddym
First half lo comedy thappa mottam lite #BabuBangaram
#Kabali | BO TWood ‏@BO_Tollywood
#BabuBangaram A Mediocre Action Comedy Entertainer. Nothing much apart from few comedy scenes and few fights. May be a weekend Watch 2.75/5
Sreenivas ‏@cnu868
Full andhra meals to everyone.... venky is the main asset for it... nice movie... have a fun with your family@babu bangaram #BabuBangaram
Nagaraja Reddy ‏@NagarajaReddyS
Superb till now. 1 hour ayindi....full entertainment ☺ #BabuBangaram
Soumya ‏@urstrulySoumya
#BabuBangaram First half done. It's good so far Interval twist bagundhi.
RK ‏@Tight_Slapz
#BabuBangaram review: #posani #venkatesh #itemsong are the highlights. Rest of the movie is a regular fare. Boring and tests your patient
Naren ‏@NarensTweetz
Avg first half. Prudhvi comedy bagundi.. #BabuBangaram Second half lite.. Edo undi cinema..Prudhvi gadi comedy tappiste Below Avg cinema #BabuBangaram
PuvvalaVirat ‏@PuvvalaVirat
#BabuBangaram A Light weighted Comedy entertainer. 1st half 2nd half . #Venky . #NanakuPremaTho By #PrudhiviRaj #BabuBangaram #BabuBangaram Average entertainment
Gowtham Murari ‏@murarigowtham
#BabuBangaram Dragged But Entertained Abv Avg Venky Energy��
HARI KIRAN ‏@harikiranroyal
#BabuBangaram -Nothing Fares well except for some scenes and Songs. One of the weakest films of #Venkatesh. Easily Skippable.
Nagaraj ‏@rajuvijai
Dated, lags at places nd could have better but #BabuBangaram is paisavasool for sure...must for #Venkyfans...
Venkatesh Venky ‏@venkybest
Good 1st Half and an Average 2nd Half.. Definitely Expected more.. Season Advantage tho Hit avuddi anukuntuna.. #BabuBangaram
RJV ‏@RJV4U
#BabuBangaram is a below average film with no proper story and forced comedy and limited entertaining scenes ..Ekkaledu!!!
Pawan Kalyan ‏@Vishnupspk
#BabuBangaram First haf good.. Second haf not bad.. Climax & Bgm Overall a one time Watch!!
Chenna ‏@chenna_prince
Interval Routiene Overall Okay First Half #BabuBangaram