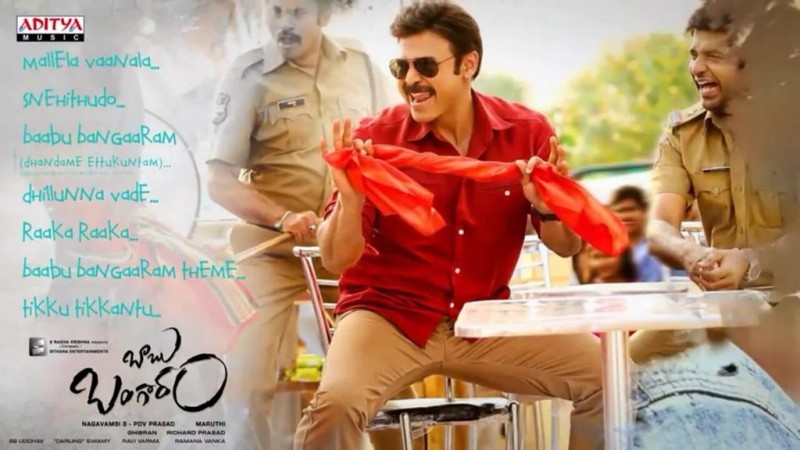 The audio launch of Victory Venkatesh and Nayantara's "Babu Bangaram" is taking place in Hyderabad on Sunday evening. This grand music release function is live streamed on YouTube.
The audio album of "Babu Bangaram" was initially scheduled to be released on July 9 and it was later postponed to July 16. The makers once again postponed its music release to July 24. Director Maruthi Dasari tweeted on July 14: "We are happy to announce that our audio will be out on the 24july and gearing up for a grand release on august 12 with all your blessings.."
The makers of "Babu Bangaram" have made a grand arrangement for its audio launch at Shilpakala Vedhika. The function, which starts at 7:30 p.m. on July 24, is live streamed on official youtube channel of Sithara Entertainments. G Sriniwasa Kumar, the publicist for the "film," tweeted: "4 Vdo songs & 1 T Trailer #BabuBangaram audio launch LIVE http://bit.ly/BabuBangaramAudio ...."
The music release function of "Babu Bangaram" is aired on MAA Music and few other Telugu TV channels. The bosses of Maa Music confirmed the news on its official Twitter handle. They tweeted: "#BabuBangaram starring #VictoryVenkatesh & #Nayanthara Audio Launch Live Today at 7:30 PM on @maamusic."
The "Babu Bangaram" team released the first song Mallela Vaanala on YouTube on July 9. The track got superb response and elated Maruthi Dasari ‏released the second song of the movie. The director tweeted on July 18, tweeted" "U enjoyed melodious 1st song of #BabuBangaram Now it's time 4 Ferocious version of Victory Venkatesh garu."
"Babu Bangaram" has six songs and Gibhran has composed the music for them. Aditya Music, which has acquired the music rights of the movie, has released the jukebox on its official YouTube channel on Sunday morning. Ghibran tweeted the link to its jukebox and wrote: "Here is #BaabuBangaaram Jukebox ✌. Need your love and support as usual " The tracks have impressed music lovers.
A music lover named Manoj BB tweeted: "@GhibranOfficial Thanxx sir For Giving #BlockBuster Album Loved All Songs."
Sai Prasad Reddy tweeted: "@GhibranOfficial @YouTube superb album sir melody , mass & rap all combination of songs Recent times lo the best album Sir I like very much."