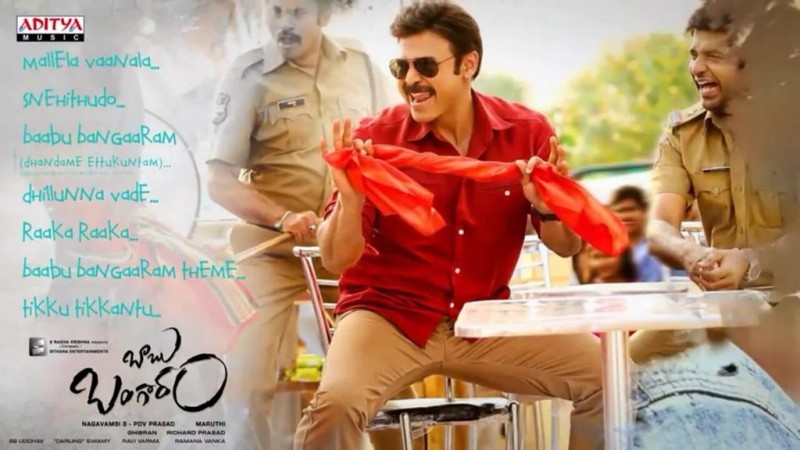 Venkatesh's "Babu Bangaram" has continued to fare well at the worldwide box office in its second week. The Maruthi Dasari-directed film has crossed Rs. 40-crore mark in the global market in 10 days.
"Babu Bangaram" was released in around 1000 screens across the globe on Aug 12 and received decent opening at the box office. Despite clashing with "Thikka," "Rustom" and "Mohenjo Daro," the movie fared well and collected Rs 32.40 crore gross at the global box office in its opening week. The film earned Rs. 21.19 crore for its global distributors in seven days.
Trade experts predicted that new releases, "Chuttalabbayi" and "Aatadukundam Raa," would force out "Babu Bangaram" from a large number of screens and halt its collection in its second week. When compared to its opening weekend collection, the movie did witness a steep decline of over 65 percent in its second weekend.
"Babu Bangaram" is estimated to have collected approximately over Rs. 5.65 crore gross at the worldwide box office in its second weekend. Its 10-day global gross total has reached Rs. 38.05 crore. The movie is expected to surpass Rs. 40 crore mark on weekdays. The film has earned a total of Rs 24.69 crore for its distributors.
The theatrical rights of "Babu Bangaram," which were sold to various distributors, have earned Rs. 29 crore for its producers. The movie has recovered 100 percent of the investments to distributors of some areas. Andhra Box Office ‏tweeted: #BabuBangaram Has Turned out to be a Profitable venture within 2nd Weekend in Nizam.
The makers are yet to reveal the distributors' share earned by "Babu Bangaram" in various regions Here are the distribution rights and 10-day collection shares of various areas in Andhra Pradesh and Telangana. These are estimated numbers and they may vary from the figures released by the makers.
| | | |
| --- | --- | --- |
| Area | Rights | Share |
| Nizam | Rs 7.02 crore | Rs 6.24 crore |
| Ceeded | Rs 4.05 crore | Rs 2.53 crore |
| Vizag | Rs 3.33 crore | Rs 2.18 crore |
| G East | NA | Rs 1.48 crore |
| G West | NA | Rs 1.35 crore |
| Krishna | Rs 2.25 crore | Rs 1.34 crore |
| Guntur | Rs 2.60 crore | Rs 1.65 crore |
| Nellore | Rs 1.10 crore | Rs 0.67 crore |
| AP/T Totoal | Rs 24.15 crore | Rs 11.07 crore |