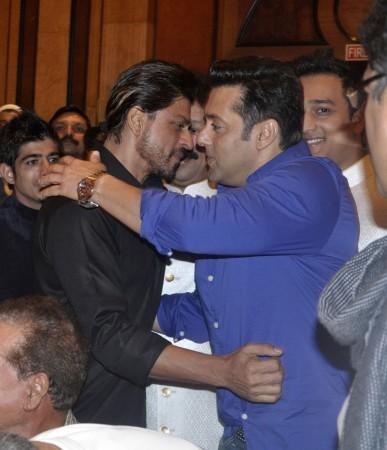 Salman Khan and Shah Rukh Khan have hogged the limelight with their hug incident again, but unlike last year, this time it was all pre-planned.
Salman and Shah Rukh repeated the history by hugging each other on Sunday at Congress leader Baba Siddiqui iftar party. The party was hosted by Siddiqui and his son Zeeshan Siddique at the Taj Lands End Hotel in Bandra on Sunday.
Salman and SRK buried their rivalry last year and hugged each other at Siddiqui's iftar party itself.
Last year, the "Karan Arjun" actors attended the event at the same time. The two had shared a warm hug with each other which was spontaneous at that moment. But this year, the whole episode was planned in advance.
"Baba Siddique had informed both Salman and Shah Rukh about their invitations and both graciously accepted it as per the tradition. However, unlike last year where the hug was more impromptu and spur of the moment, this time the whole episode was well planned in advance," a source told Bollywoodlife.com.
After the iftar party, Salman interacted with the media and talked about SRK and his upcoming film "Kick." During the interaction he said he always liked Shah Rukh, but refused to talk about their famous hug.
Another tabloid claims that the two stars completely ignored each other at the party.
SRK arrived before Salman and he was seated next to Maharashtra Chief Minister Prithviraj Chavan. When Salman arrived he shook hands with Chavan and other people who were present their except for Shah Rukh. Later, Salman went on to the other side to meet other guests and SRK. The two stars hugged each other only after the politician urged them to do. They even posed with Baba for shutterbugs, but they didn't even look at each other for once, The Times of India reported.
Baba's iftar party on Sunday had seen the presence of politicians as well as Bollywood actors. Ex-Union Home Minister Sushil Kumar Shinde , Maharashtra Pradesh Congress Committee (MPCC) Chief Manikrao Thakre, Maha' Forest Minister Patang Rao Kadam, BMC Chief Sitaram Kunte, Nitesh Rane, Traffic Commissioner Pratap Digaonkar and others politicians were seen at the event.
Bollywood celebrities who graced the event included Salim Khan, Sohil Khan, Arbaaz Khan, Sunil Shetty, Aditya Pancholi, Madhur Bhandarkar, Arjun Kapoor and Sajid Nadiadwala among others.