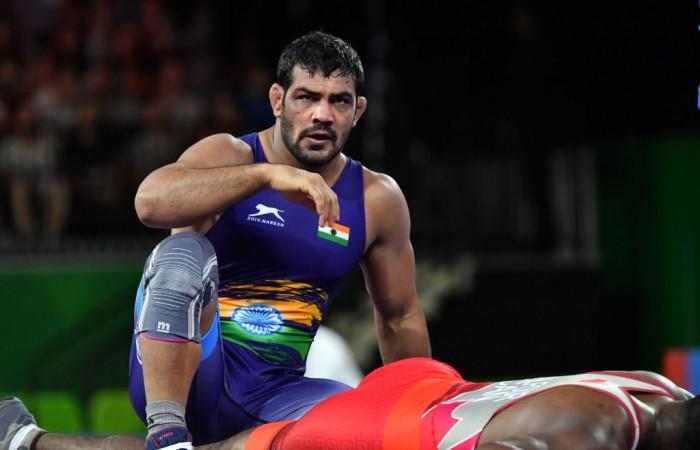 Yoga guru-turned businessman Baba Ramdev heaped praise on senior wrestler Sushil Kumar for his gold medal-winning performance in the recently concluded Commonwealth Games 2018 in Gold Coast, Australia.
Known to be one of the strongest advocates of vegetarianism in the country, Ramdev highlighted the fact that Kumar is a "vegetarian wrestler" and praised the latter for maintaining a healthy life. He also urged the youth to seek inspiration from the 34-year-old.
The two-time Olympic medalist, who is one of the most popular wrestlers practicing vegetarianism, met the yoga guru in New Delhi after returning from Gold Coast on Tuesday, April 17.
Kumar clinched his third straight CWG gold medal last week after easing his way to the top step of the podium in the men's freestyle 74kg category. He decimated South Africa's Johannes Botha via technical superiority (10-0) in the gold medal match.
"I am very proud of Sushil Kumar. He has made India proud with his win at Commonwealth Games. One of the most important things is Sushil is a vegetarian wrestler. I hope the youth of India finds their inspiration from him," Ramdev said, as quoted by ANI.
India would have won gold in Rio had Kumar been allowed to participate: Ramdev
The yoga guru also opined India missed an opportunity to win gold at the Rio Olympic Games in 2016 by not sending Kumar as part of the Indian contingent.
The London Olympic silver medalist was denied a ticket to Rio de Janeiro after the Delhi High Court upheld the Wrestling Federation of India's decision to not give him a trial to become India's representative in the 74 kg category.
Notably, Narsingh Yadav had won the berth by finishing third in the World Championships in Las Vegas in 2015 but the 28-year-old was banned for doping ahead of his event at the quadrennial multi-sport spectacle in Rio.
"India would have won one Gold medal had Sushil Kumar been allowed to participate in the 2016's Olympics. India would have been proud," Ramdev said.
Meanwhile, Kumar expressed his gratitude in Ramdev, saying the yoga guru had played a very important role in his life.
Notably, fellow Commonwealth Games gold-medal winning wrestler Sumit Malik also met Ramdev and sought his blessings.
"I am grateful to Baba Ramdev, he has always shown me the right path to life. I never go anywhere without the blessings of Baba Ramdev. He has played a very important role in my life," Kumar said.