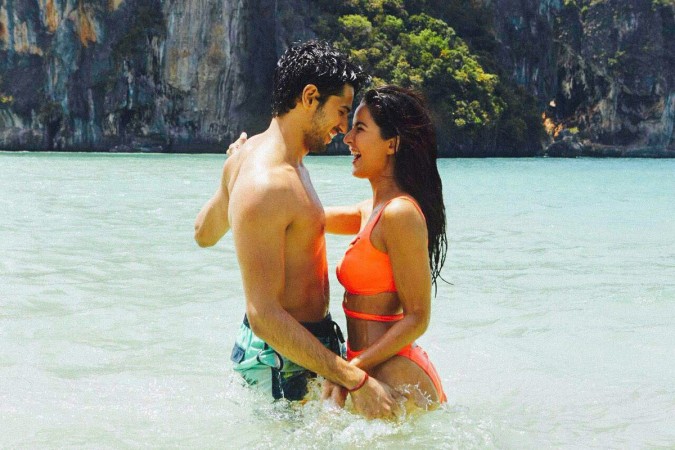 Director Nitya Mehra's Bollywood movie "Baar Baar Dekho" (BBM), featuring Sidharth Malhotra and Katrina Kaif in the lead roles, has received positive reviews from the audience.
BBD Review | BBD Critics Review | BBD Promos | Trailer Launch | BBD Stills
"Baar Baar Dekho" is a romantic drama and Sri Rao has written the story for the film, besides penning the screenplay in collaboration with Nitya Mehra and Anuvab Pal. Anvita Dutt has written the dialogues for the movie, which has been produced by Karan Johar, Ritesh Sidhwani and Farhan Akhtar under the banners of Dharma Productions and Excel Entertainment.
"Baar Baar Dekho" traces a unique and unusual love story that spans over 30 years. But the movie is neither science fiction nor does it revolve around time travel. The movie deals with how Jai Varma (Sidharth Malhotra) and Diya Varma (Katrina Kaif) ride the ups and down of their relationship through the test of time. The film is a roller-coaster ride of Jai and Diya.
As lead pair, Sidharth Malhotra and Katrina Kaif have delivered brilliant performances and sparkling chemistry between the two is the main highlight of "Baar Baar Dekho." Sarika, Ram Kapoor, Taaha Shah Badusha, Sayani Gupta and Rohan Joshi have done justice to their roles and their performances are also assets of the movie, say the audience.
"Baar Baar Dekho" has rich production values and a couple of songs, background score, cinematography, exotic foreign locations, dialogues and beautiful sets are attractions on the technical front, say the film goers. We bring you some viewers' verdict shared on Twitter. Here is the live update of "Baar Baar Dekho" movie review by audience:
Nirmish Thakur ‏@inirmishthakur
#BaarBaarDekho is definitely a #BaarBaarDekho @S1dharthM has definitely matured as an actor, superb! #KatrinaKaif Killed it,she's beautiful
RITU ‏@rituforyou
KUDOS to @nitya_mehra for essaying this twisty but well written screenplay in such brilliant manner.Remarkable Debut #BaarBaarDekho !! #BaarBaarDekho entertains in every frame,@S1dharthM & #KatrinaKaif not only performed well but looked Pulchritudinous specially in songs. #BaarBaarDekho is must watch for those surprising turns,for superbly matched lead couple and for touchy climax.Go have a trip friends. #BaarBaarDekho is an amazing trip with great farewell in which #KatrinaKaif & @S1dharthM delivers masterfully. Recommended !! (3.5/5)* !!
Aditi Raval ‏@RJADITI
#KatrinaKaif undoubtedly looking extremely beautiful on screen.. Amazing camera work and pretty locations #BaarBaarDekho .. But film kevi?? #BaarBaarDekho will entertain #KatrinaKaif & @S1dharthM Fans. Location, Camera work, Music ma paisa vasool thashe but Hu to Kantaali
Mit Shah ‏@immsunknown
#baarbaardekho what a film!!! A typical bolywd movie that shows some sensation abt our living life...as per the name prsn can see #baarbaar
Aani ⚽ ‏@BeingSherni
OMG I just watched #BaarBaarDekho Katrina and Sid both deserves oscar best performances of their career I am crying seriously it was best
Mrinmoyee Mukhuty ‏@moyee777
#BaarBaarDekho says a lot more than what meets the eye! @S1dharthM was so effortlessly awesome and his role so relatable!
Devansh Patel ‏@PatelDevansh
#BaarBaarDekho is an intelligent approach to a difficult subject. An affecting romance & a tricky accomplishment @S1dharthM #KatrinaKaif & @S1dharthM's melange in @BaarBaarDekho_ is something to luk forward 2. His film choices have almost been refreshing & this is no different. I'll tell you what, #KatrinaKaif in @BaarBaarDekho_ is a through charmer. She's never looked this hot before & this mature at the same time.
Ekta ‏@dollz87
Couldn't resist Katrina's abs and caught the first day, second show of #BaarBaarDekho - two words: loved it! Starts slow, second half fab. An understated romcom with the feels plus a career-defining performance by @S1dharthM #BaarBaarDekho Katrina is efficient but has fewer dialogues. Kudos @nitya_mehra for creating a believable future world with small touches. #BaarBaarDekho
Priya Ranjan Pradhan ‏@ibapuni
#BaarBaarDekho exploit the sheer charm of its great stars @S1dharthM kat chemistry were so wonderful to watch @nitya_mehra u nailed it Not a whole heck of a lot happens in #BaarBaarDekho but it happens so charmingly, and with such quick spirit. LOVED MUSIC @S1dharthM ROCKS
POP Diaries ‏@Popdiarieslive
Jai and Dia are opposite in nature, @S1dharthM as Jai is cynic and pessimistic while Katrina is more fun and full of life in #BaarBaarDekho #KatrinaKaif is surely gonna surprise people with her acting this time, till now she is convincing as Dia #BaarBaarDekho #BaarBaarDekho definitely has some awesome one liners and slapstick comedy to look forward The side characters are amazing, even though some are overdone they suit the setting of the movie #BaarBaarDekho The transition between two time phase is smooth and shown beautifully #BaarBaarDekho The camera shots and direction is applaud worthy #BaarBaarDekho @nitya_mehra For girls, #KatrinaKaif's each and every outfit will surely set some major #closetgoals, she is looking beyond fab #BaarBaarDekho
Varun Sharma ‏@varunsharma90
Absolutely Loved #BaarBaarDekho Superb Direction Brilliant Story!! Loved every bit of it! Superb Performance @S1dharthM Bhaii Killed it!!✌️
Shakeeb Ahmed Baloch ‏@ShakeebB
"Baar Baar Dekho" ... Excellent guys!! (Makers).. Excellent Movie.. I loved it and i loved the meaning of it... #BaarBaarDekho .. Abosolute Jumbo movie.. Katrina is back hurray, After fitoor nightmare.. Siddhart's nightmare is best..
Abir malik ‏@AbirAbirmalik
Just Watched #BaarBaarDekho ..i must say @S1dharthM this guy never let bollywood down simply outstanding performance by Nitya u r God
Abeed Karim ‏@AbeedKarim
@S1dharthM After watching #BaarBaarDekho today U become Ma fav actor .Mind blowin performance,cute, inspiring story.Just Loved it awesome
Varun Kotian ‏@kotianvarun
Loved the message @BaarBaarDekho_ gives out. However felt it was a drag towards the end with all the regular bollywood tadka #BaarBaarDekho
Lem metake ‏@LMetake 48s48 seconds ago
Just Finished To Watch #BaarBaarDekho Here in UAE Sidharth Absolutely masterclass Performance...Sri Rao Amazing Story. simply amazing
Sohail Khan ‏@ItsSohailKhan
#BaarBaarDekho FIRST HALF Completed & it's looking like a perfect Rom-com Entertainer till now. @S1dharthM done really well in beard.While #KatrinaKaif Also done really well. Her amazing performance will surprise you. Let's see what's in Second half.
RJV ‏@rjvaluri
#BaarBaarDekho 1st half #BaarBaarDekho is a boring film..Though the concept is interesting showing the Essence of Life for Today generation but narration gone wrong Katrina Kaif is Lovely in the film ..Eyes filled with ❤❤❤❤❤ #BaarBaarDekho
Aishwarya ‏@aishwaryaaras13
#BaarBaarDekho is indeed a baar baar dekho film ❤ Fallen in absolute love with @S1dharthM 's Brilliant performance
Srishti arya ‏@shrishtiarya
Watched #firstdayfirstshow #BaarBaarDekho not only beautiful visuals, great music but something special to say. Super proud @nitya_mehra
Savio menezes ‏@savvyodxb
#BaarBaarDekho will test ur patience in the 2nd half but ull leave the theatre feeling good if u last the ordeal @S1dharthM @KatrinaKaifFB