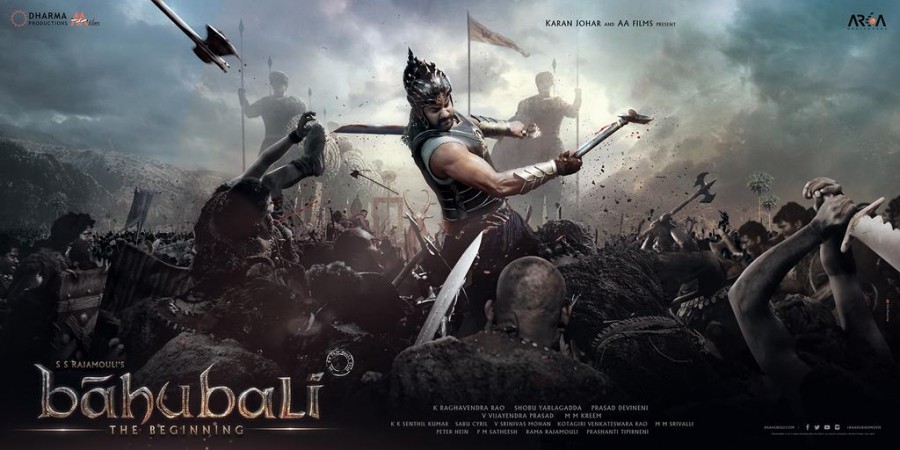 With the release of "Baahubali" trailer in Telugu, Tamil, Malayalam and Hindi, the film has become the most trending topic in social media forums like Twitter, Facebook and YouTube. The video was released online at 5pm on Monday, 1 June, and since then everyone including celebs have gone crazy about it.
The trailer has become so popular that the views of the Telugu version alone has crossed 1 million views within 24 hours. The two-minute video turned out to be a visual treat for the audience and the technical aspect of the film is expected to be something that the Indian cinema is yet to see.
Directed by SS Rajamouli, "Baahubali" is the most expensive film ever made in India and the film is touted to be an epic that narrates the story of two brothers who claim their rights over the kingdom.
[Click Here to See 'Baahubali' Trailer in Telugu, Tamil, Malayalam and Hindi]
The trailer was launched on 1 June at an event held in Hyderabad and was attended many including filmmaker Karan Johar, and the film's cast, including Prabhas, Rana Daggubati, Anushka Shetty and Tamannaah Bhatia.
During the event, director SS Rajamouli said both the first and second parts of "Baahubali" are inspired by Mahabharatha.
"All my movies are inspired by 'Mahabharata' and 'Ramayana' because those are two epics that have been fed to me right from my childhood. I get my emotional connect from those epics," said Rajamouli at the launch function.
"Baahubali", which is set for release on 10 July, will be distributed in Hindi by Karan Johar's Dharma Productions.