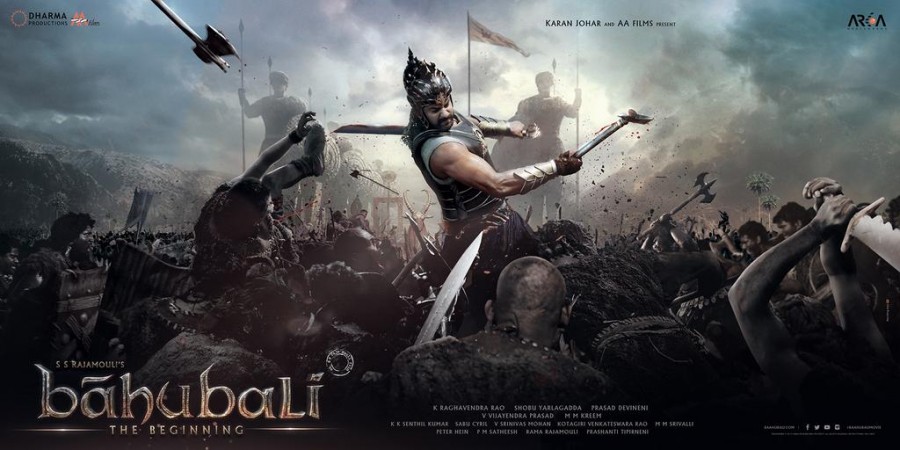 The long wait is over as director SS Rajamouli has unveiled his most ambitious project with the trailer release.
The two-minute video is something that Indian cinema has never seen before, as each frame of the trailer leaves you with goosebumps. Astounding graphics work, brilliant cinematography, excellent star cast and unbelievably superb art and above all Rajamouli's visualisation comprise the trailer of "Baahubali".
The trailer has ensured that the long wait for the upcoming movie will be worth it as it is now confirmed that the flick will be the most technically-advanced film ever made in India, and will surely stand among the best of World cinema.
Meanwhile, "Baahubali" trailer was released at 10.30 am on 1 June at theatres across Andhra Pradesh and Telengana. Large numbers of fans were seen thronging to the theatres to watch the trailer. The trailer left the audience spellbound with the visuals.
"The visuals were breathtaking. The trailer was worth the long wait and deserves to be called an epic. It blew me away," said Balaji, an ardent fan of SS Rajamouli, to IANS.
The team of "Baahubali" had released the teaser of the movie on 30 May and it had received overwhelming response from the audience. The posters of the movie, which introduced the lead characters of the movie, had also invoked great reactions.
The star cast of "Baahubali" includes Prabhas as Baahubali, Rana Daggubati as Bhalladeva, Tamanna as Avanthika, Sudeep as Aslam Khan, Sathyaraj as Kattappa, Nasser as Pingalathevan, Prabhakar as Kalakkeya, Ramya Krishna as Shivagami, and Anushka Shetty as Devasena.
"Baahubali" is being touted as an epic that narrates the story of two brothers and the film is the most expensive movie ever produced in India till date as it is being made with a budget of around ₹175 crore. The pre-release business, according to some reports, has already crossed the ₹100 crore mark.