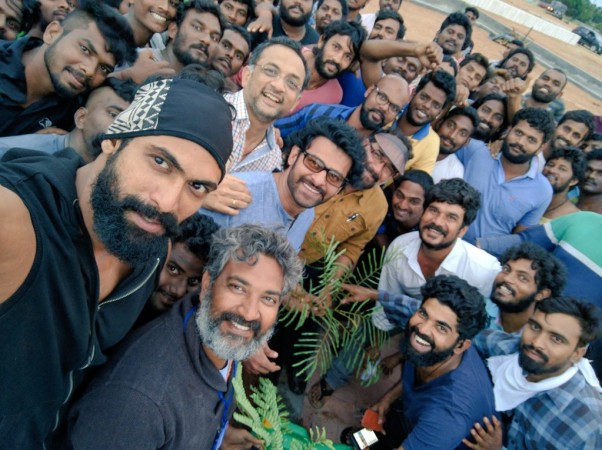 "Baahubali" (Bahubali) team members SS Rajamouli, Prabhas, Rana Daggubati and Shobu Yarlagadda took part in the Haritha Haram campaign and planted saplings at Ramoji Film City (RFC) in Hyderabad on Monday.
The "Baahubali" team members, who are currently shooting for "Baahubali 2" at Ramoji Film City, took some time out from their busy schedule to take part in the Green Hyderabad initiative launched by the Government of Telangana.
After planting the saplings, Rana Daggubati took to his Twitter handle to inform his followers about the exercise. The "Baahubali" star posted a photo featuring the team and wrote: "Began the day by planting in Ramanaidu studios Nanakramguda abd ended by planting in Ramoji film city. #HarithaHaram."
Shobu Yarlagadda also posted about the event, promising followers that he would post more photos soon. The producer tweeted: "Team @BaahubaliMovie participated in #HarithaHaram a program to increase green cover by Govt.of Telangana. More pics of @BaahubaliMovie team participating in #HarithaHaram program by Govt. of Telangana coming soon.."
The makers posted a few photos and a video on the official Twitter handle of "Baahubali." They also requested all the fans of the "Baahubali" film series to take part in the Haritha Haram campaign and plant saplings.
Besides posting pictures, the Baahubali makers wrote: "Today we took part in the #HarithaHaram program and planted a number of saplings around our shooting location. #HarithaHaram is an initiative by the Government of Telangana to increase the number of trees around the state. We hope you all also participate in this great initiative :) #HarithaHaram."
Meanwhile, the film unit is facing some problems due to the cloudy weather on the sets. They are using artificial light to create the feel of sunlight. Producer Shobu Yarlagadda tweeted: "100KW day light lighting up the cloudy sets of @BaahubaliMovie!" Meanwhile, cinematographer KK Senthil Kumar posted some pictures and wrote: "A Picture with the #Baahubali of lights a 100KV light. Being used to light the Cloudy Sets of #Baahubali."