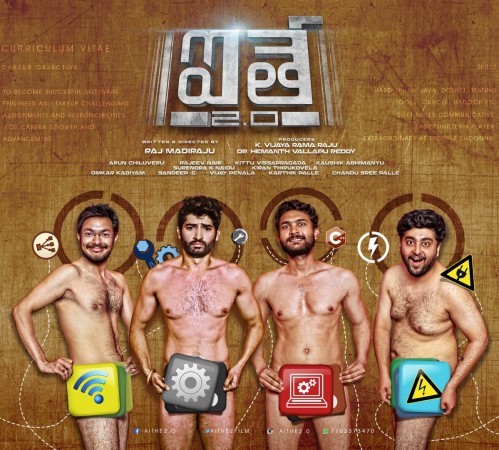 Baahubali music composer MM Keeravani has released the lyrical video of the song Ningi Pai from the upcoming Telugu movie Aithe 2.0. He said that this soundtrack has melodious music.
Music director Kalyani Malik has composed music for the song Ningi Pai, which has been sung by Naresh Iyer. Ace composer MM Keeravani listened to it and was impressed by it before releasing it. "I have listened to the song and it's quite new," said the Baahubali music composer.
"[Guitarist] Arun Chiluveru is a contemporary talent. He is very good at melodious music. I have known him as an excellent guitarist. I am sure he will go big. The lyrics are also quite inspiring. I liked lines such as 'Ashaga aashake aayuve penchaga'. The singer (Naresh Iyer) has also done great. I wish the entire team all the best. I hope the other two songs are also equally inspiring," said MM Keeravani.
Kalyan Malik was all thrilled to get this song released by MM Keeravani. He said: "It was I who composed the music for Aithe. It had only one song, which was sung by Annayya (Keeravani). It feels special to release the first song of 'Aithe 2.0' along with him. 'Ningi Pai' is refreshing. Arun had worked with me as a guitarist. It was always cool to work with him. I hope this film will be as popular as 'Aithe' was."
Singer Naresh Iyer, who is known for his songs in Tamil, hopes that Ningi Pai will give him a much-needed break in Tollywood. The singer said: "It's a wonderful song that you can sing along casually. KIttu Vissapragada's lyrics are motivating. I hope you guys will enjoy it."
Arun Chiluveru said: "I am so blessed that my song has been released by Keeravani sir. I should really thank Raj Madiraju sir for finding me. I am glad 'Ningi Pai' has been rendered by Naresh Iyer, my favorite singer. Kittu, the lyricist, is also my close friend."
Talking about the music album of Aithe 2.0, director Raj Madiraju said: "Our film has got three songs in total. They come at three different stages in the lives of the protagonists. Each of them is themed around three different things: Hunger, greed, and anger. Arun has worked with eminent music directors in the past. Many told me I should try him. I am very happy to introduce him with Aithe 2.0."
The director added, "I am a die-hard fan of guitar, which he has mastered. 'Ningi Pai' is a soft-rock number. It takes us into a trance. Kittu Vissapragada's lyrics are great. I have known him since the days of 'Rishi'. I am happy he is doing some fantastic projects. He has penned the other two songs as well and has also made so much contribution to dialogues."
Written and directed by Raj Madiraju, Aithe 2.0 is touted to be a technical thriller, and is slated to hit the screens on March 16. Producer Vijay Ramaraju said: "Our film will hit the screens on March 16."
Madhura Audio released this track on its official YouTube channel and later tweeted: "Here's the lyrical video of #NingipaiNeedala from #Aithe2point0 , @nareshiyer singing makes it so pleasing to ears & the soulful lyrics from #KittuVissapragada instills hope about life , composed by @Arunchiluveru , directed by @RajMadiraju @Surendraknaidu."