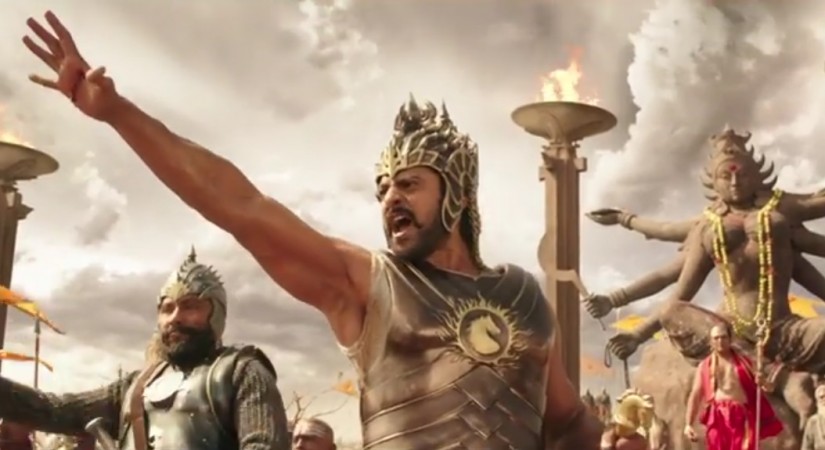 The latest release "Baahubali", which is currently creating waves at box office, is on a record breaking spree. The movie, which has been directed by SS Rajamouli, is already the highest grossing South Indian movie after Rajinikanth's "Robo", and now trade experts believe that the movie will be able to create record in terms of distributor share. [Gross – (Taxes + Theatrical Rental and Commissions) = Share].
According to Andhra Box Office, the film's six-day worldwide collection has crossed Rs 235 crore from all versions and it is now predicted that the movie will be able to reach the Rs 200-crore mark in terms of its share by the second weekend. If "Baahubali" manages to reach the mark, it will be the third movie in Indian film history to do so after "PK" and "Dhoom 3".
Meanwhile, with 'Baahubali", the director of the film SS Rajamouli has officially become the biggest hit filmmaker of Telugu cinema. Besides being a blockbuster filmmaker, Rajamouli has managed to bring in a new phase in Tollywood with his movies such as "Eega", "Magadheera" and "Baahubali" with the support of some excellent VFX works in his narrations.
"Baahubali", at the same time, has made a record share amount in Andhra/Nizam region in six days. The film's share in various regions according to Andhra Box Office is as follows:
Nellore
Day 1 – Rs 93 lakh
Day 2 – Rs 29 lakh
Day 3 – Rs 37 lakh
Day 4 – Rs 19 lakh
Day 5 – Rs 16 lakh
Extra Hires – Rs 3 lakh
Day 6 – Rs 15 lakh
Total - 2.12 crore
Krishna
Day 1 – Rs 1.25 crore
Day 2 – Rs 54 lakh
Day 3 – Rs 64 lakh
Day 4 – Rs 41 lakh
Day 5 – Rs 31.5 lakh
Day 6 – Rs 26 lakh
Total - 3.415 crore
Guntur
Day 1 – Rs 2.54 lakh
Day 2 – Rs 62 lakh
Day 3 – Rs 81 lakh
Day 4 – Rs 47 lakh
Day 5 – Rs 39 lakh
Day 6 – Rs 32 lakh
Total – Rs 5.15 crore
East
Day 1 – Rs 1.98 crore
Day 2 – Rs 72 lakh
Day 3 – Rs 80 lakh
Day 4 – Rs 50 lakh
Day 5 – Rs 39 lakh
Day 6 – Rs 38 lakh
Total – Rs 4.77 crore
West
Day 1: Rs 2.57 crore
6-Day Total: Rs 4.14 crore