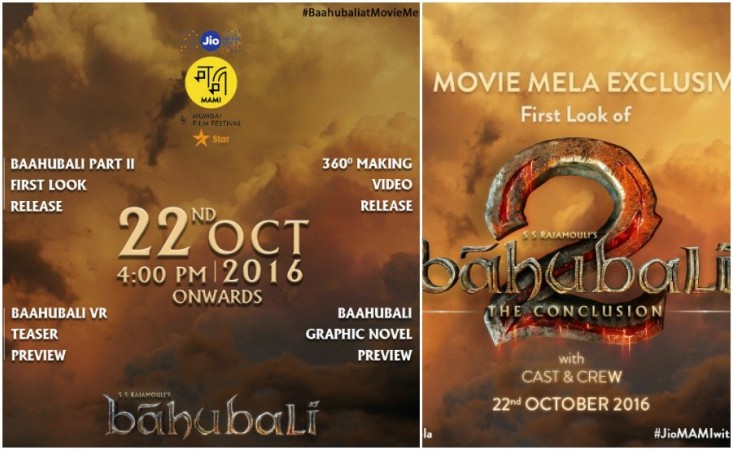 The producers of director SS Rajamouli's Baahubali: The Conclusion (Bahubali 2) are gearing up to release its first-look, teaser, 360-degree making video and graphics novel at Jio MAMI Mumbai Film Fest.
Check: Baahubali 2 first look | Baahubali 2 Logo | Animation Poster | Baahubali 2 Sets | Working Stills
The makers of Baahubali 2 will showcase its first-look at the Jio MAMI Mumbai Film Festival at 4:00 on October 22. They released a poster on the official Twitter handle of Baahubali on Monday evening. The posters shows that the first look, teaser, 360-degree making video and graphics novel of the movie will be launched on occasion.
Besides the poster, the producers of Baahubali 2 also wrote: "5 Days to go! On the 22nd of October, checkout what's happening at @Mumbaifilmfest ! #Baahubali2 #Baahubali #BaahubaliatMovieMela."
The organizers of the Jio MAMI Mumbai Film Festival confirmed the news on its official Twitter handle. They tweeted on 16 October: "Hold your horses - we have some exciting #MAMIMela news coming right atcha! Any guesses? #JioMAMIwithStar2016⁠⁠⁠" Later, they added: "The FIRST LOOK of #Baahubali2 at #MovieMela with cast & crew at #JioMAMIwithStar2016! Register & don't miss out."
The Baahubuli team will launch the teaser to a virtual reality spin-off film set around the Baahubali world, which gives the audience a sneak-peek into a game and comic based on the epic film. The bosses of the Mumbai Film Fest tweeted on Monday: "#VRatMAMI dives inside the world of @BaahubaliMovie with @BaahubaliVR & more including films by famed director @gaboarora #JioMAMIwithStar"
The 18th Mumbai Film Festival with Star will begin from Thursday and it will witness the presence of Baahubali stars Rana Daggubati and Anushka Shetty, who will share their experiences on the making of the movie. "I am really excited to share the first look of 'Baahubali 2' with all the fans. Doing it at MAMI Mela is going to be a lot of fun, especially with the entire cast on stage with me," Rajamouli told IANS.
Shobu Yarlagadda, who is jointly producing Baahubali 2 with Prasad Devineni, is also thrilled to attend the 18th Mumbai Film Festival. The producers tweeted on Monday: "We are excited to be @Mumbaifilmfest n show for first time @BaahubaliMovie @BaahubaliVR experiences! @AMDRadeon @TheFoundryTeam #VR."