After the success of "Baahubali", yet another Tollywood movie is set to make it big at the Tamil Nadu box office. Mahesh Babu's "Srimanthudu" will be releasing in two versions in the state.
Mahesh Babu's "Srimanthudu" is dubbed as "Selvandhan" in Tamil. While the original Telugu version is releasing in 60+ screens, the Tamil version is releasing in 105 screens in the state. However, the cine-goers have already started drawing comparisons whether the latest movie would beat SS Rajamouli's film at the Tamil Nadu box office.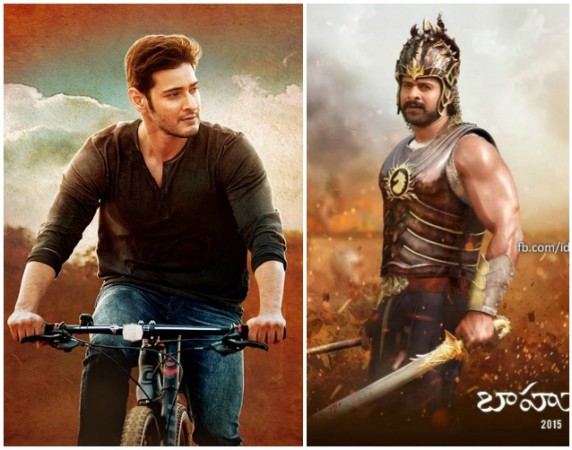 Below, we are listing the reasons why it is not possible for the Mahesh Babu starrer to break the record of "Baahubali" in the state.
Wide Release
"Baahubali" had a wide release in Tamil Nadu. While the Tamil version had seen the light of the day in 46 screens, the Tamil version of the flick was released in 333 screens. This clearly shows that the Telugu movie technically has a major advantage over "Srimanthudu" aka "Selvandhan", which is releasing in only 165+ screens as compared to 379 screens of SS Rajamouli's film.
Huge Promotions
The SS Rajamouli's movie has created a huge buzz in Tamil Nadu due to the massive promotional activities taken up by the makers. The film drew Kollywood audience's attention at least three months ahead of its release, whereas "Srimanthudu" entered Kollywood at the last minute. It is also true that seeing the success of "Baahubali", the makers of Mahesh Babu's film decided to dub it in Tamil.
Dub vs. Straight Movie
SS Rajamouli's "Baahubali" was simultaneously made in Telugu and Tamil languages. It is only in the opening weekend that the Telugu version performed better than the Tamil version, which performed exceptionally well after the first weekend. But, the Mahesh Babu starrer is a dubbed movie, which might not work in favour of the flick.
There is always a better market for the original content than the dubbed versions, which often fails to pull the audience to the theatres.
The aforementioned reasons are enough to show that "Selvandhan" will not beat "Baahubali".