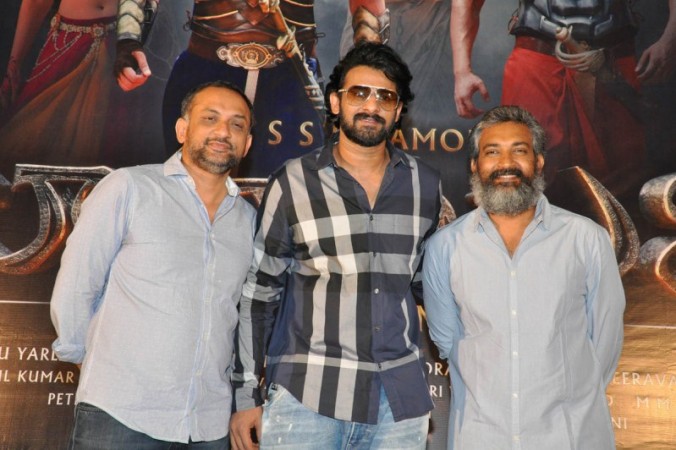 Ace director SS Rajamouli and Prabhas have confirmed that the audio and trailer release of "Baahubali" has been postponed . They slammed all rumours and stated the delay was due to security issue.
The news about the postponement of "Baahubali" audio function hit the net on Wednesday evening. Several speculations were being made regarding the reason for the delay. The teaser of Mahesh Babu's "Srimanthudu" is releasing on 31 May. It was rumoured that Rajamouli postponed his event due this function as he thought that it would divide the attention of the movie buffs and media.
It was also rumoured that the event was postponed after the team was denied permission due to security issues. Another rumour was that the hike in the ticket price was the reason for the postponement of the function. SS Rajamouli held a press conference on Thursday morning. Prabhas and producer Shobu Yarlagadda were also present there and they tried to clear the rumours surrounding the event.
Check: Baahubali Press Conference Photos
Addressing the media, SS Rajamouli said that the function was postponed due to security issues, not because of permission issues. He added that the turnout of audience is beyond imagination and the venue, where they have planned to hold the event, cannot accommodate such huge numbers of fans.
The "Baahubali" team, which is promoting the film in a corporate style, has repeated postponing its release, and this has disappointed movie goers across the globe. Rajamouli, Prabhas, and Shobu Yarlagadda apologised to the fans for causing distress and disappointment.
Rajamouli promised that he would not disappoint them anymore. He also assured to bring Prabhas closer to his fans at the audio release of "Baahubali". Meanwhile, he said that he would conduct the audio launch in a bigger way at a venue that will accommodate more number of fans. He said that he would announce the new date of its music launch on 29 May.
Later, on the official Twitter page of "Baahubali", the team wrote, "'Baahubali - The Beginning' Audio Function has been postponed due to security technicalities. We will announce the re-scheduled date soon. We sincerely apologize for the delay and thank you all for your infinite support! #Baahubali."
However, the trailer and audio of "Baahubali" were to be launched at a grand function in the Hitex Exhibition Centre, Hyderabad, on 31 May. For the last few days, the team was busy prepping for the function, but they scrapped their plans just five days before the event.