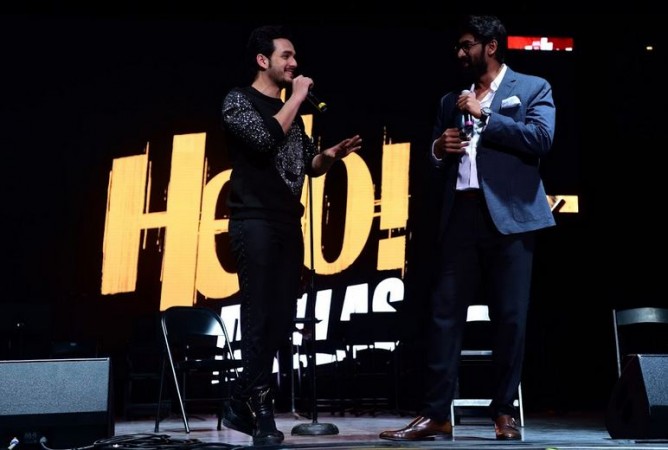 Baahubali actor Rana Daggubati, who is now working on Haathi Mere Saathi, is set to become a producer with Akhil Akkineni's third film, which will be directed by Satya Pinniseti of Balupu fame.
Rana Daggubati surprised everyone recently by accompanying Akhil Akkineni during his US trip to promote Hello. IBTimes India had reported about Rana helping Akhil score a hit at the US box office. Tweeting our article, the actor had said: "Will be the happiest to see my little brother put up a big score!!"
But none had any clue that Rana Daggubati was going to go a step forward and become a producer to support Akhil Akkineni. Yes, you read it right! The Baahubali actor has decided to produce the young actor's next movie and has roped in Satya Pinniseti to direct it.
The speculation about Rana Daggubati's maiden production is creating a lot of buzz on social media.
Shreyas Group tweeted: "Exclusive!!! Akhil Akkineni's next confirmed!! #Rana is the producer and Malupu director #SatyaPinniseti is the director. A blockbuster on the way. Get ready. #Rana #Akhil #SatyaPinnisetty. [sic]"
Akhil Akkineni started his career as a child actor with the 1995 movie Sisindri, and made a cameo appearance in the 2014 movie Manam. He made his debut as a hero with the 2015 flick Akhil: The Power of Jua, which bombed at the box office and failed to give him a big break.
His father Akkineni Nagarjuna then produced Akhil's second film Hello and invested heavily in it. Released in the theatres on December 22, 2017, the movie was successful in impressing viewers. But the film could not make it big at the box office and is heading to become another flop for Akhil.
Rana Daggubati and his helping hand in promoting Hello helped the film fare well at the US box office. With the actor coming forward to produce Akhil's next film, the movie is expected to finally be the big break Akhil Akkineni has been looking for at the box office.