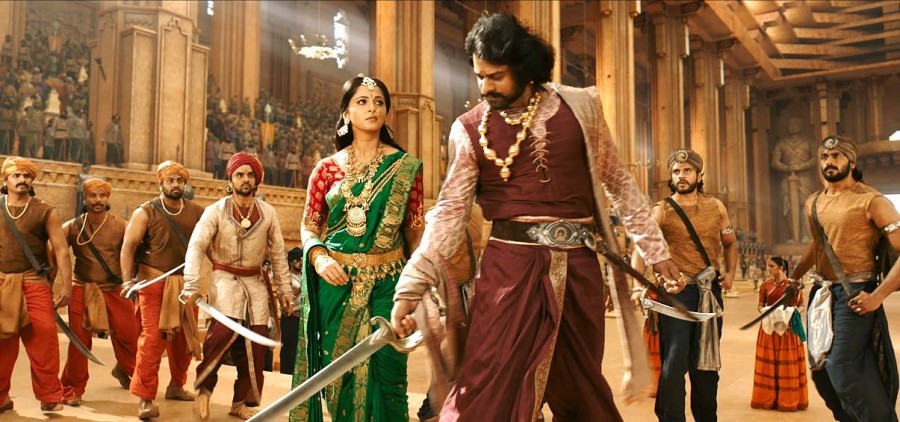 Prabhas' Bahubali 2 (Baahubali 2) made a stupendous collection at the worldwide box office in the second weekend. The movie earned decent profits to its global distributors, except in Tamil Nadu and Karnataka, in 10 days.
Bahubali 2, which has been directed by SS Rajamouli has fetched Rs. 122 crore from the sale of its theatrical rights in Andhra Pradesh and Telangana (AP/T). The movie has recovered 100 percent investments for all distributors in these states and has also earned them a profit share of Rs. 17.99 crore in 10 days. The AP/T distributors total share stands at Rs. 139.99 crore.
Karan Johar and AA Films acquired the rights to its Hindi version for an advance payment of Rs. 70 crore. In its second weekend, Bahubali 2 has earned them a massive profit share and the distributors' total earnings stand at Rs. 180 crore in 10 days.
Global United Media has acquired the music and TV rights of Malayalam version and its theatrical rights for Kerala for a record price of Rs. 11 crore. Bahubali 2 has fetched Rs. 19.08 crore from ticket sales alone.
Bahubali 2 is yet to recover 100 percent investment of distributors in Karnataka and Tamil Nadu.
Great India Films shelled out Rs. 44 crore on the theatrical rights of all four versions for North America. Bahubali 2 has already recovered the investments and earned Rs. 25.90 crore in profits to the distributor. Various distribution houses bought its theatrical rights for UK, UAE, Australia and other international markets for Rs. 20 crore and the film has earned the lot Rs. 49.59 so far.
Here are the details of the global distributors and the prices of theatrical rights and earnings of Bahubali 2 around the world. These numbers are based on various reliable sources and they may not match with the actual figures released by the makers. All the figures are in INR and crore.
| | | | | | |
| --- | --- | --- | --- | --- | --- |
| Area | Rights Price | Distributor | Earnings | Recovery (%) | Profits |
| Nizam | 40 Advance | Asian | 44.85 | 112.12 | 4.85 |
| Ceded/Vizag/Krishna | 46 | Varaahi | 52.52 | 114.17 | 6.52 |
| Godavari | 18 | Om Sri Manikanta | 23.30 | 129.44 | 5.50 |
| Guntur/Nellore | 18 | V Celluloids | 18.72 | 104 | 0.72 |
| AP/T Total | 122 | ---- | 139.99 | 114.74 | 17.99 |
| Karnataka | 36 Advance | Varupradha Enterprises | 35.40 | 98.33 | -0.60 |
| Tamil Nadu | 47 | Sri Green | 42.00 | 89.36 | -5.00 |
| Kerala (+Audio-TV) | 11 | Global United Media | 19.08 | 173.45 | 8.08 |
| Rest of India | 70 Advance | AA Films | 180.00 | 257.14 | 110.00 |
| North America | 44 | Great India | 68.90 | 156.59 | 25.90 |
| Rest of World | 20 | Various | 49.59 | 247.95 | 29.59 |
| Worldwide Total | 350 | ---- | 534.65 | 152.75 | 191.56 |