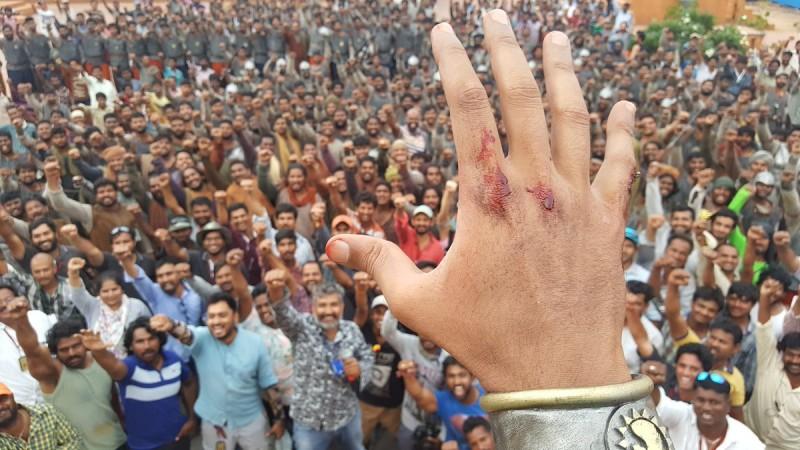 The team of "Baahubali" (Bahubali) has started shooting for "Baahubali: The Conclusion" climax scene, which is said to be the costliest one. After the first day's shot got over on Monday, director SS Rajamouli released an on-set photo on Twitter.
The climax is the most important portion of "Baahubali: The Conclusion" and the makers are leaving no stone unturned to make it look grand. They are reportedly shelling out Rs. 30 crore on the making of this portion. Several special sets have been erected at the Ramoji Film City in Hyderabad and Hollywood technicians have been brought on board for filming of the climax.
SS Rajamouli, who is all thrilled about the shooting of the climax of "Baahubali 2," took to his Twitter account to talk about his experience on the first day. Besides sharing a photo taken on the set, the director wrote, Fantastic first day at war... Months of planning helped everything roll out smoothly.. Jai Mahishmathi..!!"
Lee Whittaker, who is directing the action scene in the climax of "Baahubali 2," tweeted on Jun 11: "Lst day rhrsls over. Nxt, rumble time!Mndy epic beginning 2 a serious clash of titans Prabhas & @RanaDaggubati bn wrkn hard,game time!" After the first day of the shoot, he posted a photo on his Instagram account and wrote, "Great first day shooting of the climax #baahubali2 an epic start 4epic adventure! #India #BH2..."
Producer Shobu Yarlagadda ‏took to his Twitter handle on June 11 to give a brief insight into the shoot of the climax of "Baahubali 2." In a series of posts, he wrote, "As we start the climax of @BaahubaliMovie, here are some interesting titbits about the climax! .@BaahubaliMovie climax was pre-visualized by John Griffith @cncptla @Crytek Known for his previz work in Planet of Apes, X Men Franchise!"
Shobu Yarlagadda continued: ".@1eewhittaker who all of you are now familiar with is the action director for climax! He also designed much of the action #Baahubali. Brad Allan & his team, know for work in Kingsman series n @larnellstovall have also contributed to climax action design of #Baahubali. Key Stunt Rigger for the climax of @BaahubaliMovie is Morne Van Tonder! He is known for his work in Hobbit franchise & Marco Polo series."