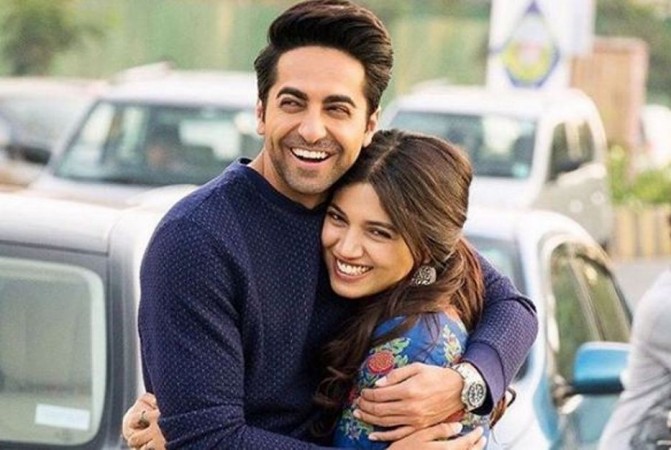 Neha Dhupia's BFFs with Vogue recently invited Dum Laga Ke Haisha pair Ayushmann Khurrana and Bhumi Pednekar. The duo made several revelations on the show, including how long they could go on without having sex.
When Neha asked them about the same, Ayushmann said: "Outdoors, maybe." Then, it was Bhumi's turn to reply, but as she was about to open her mouth, Ayushmann jumped in and said: "One hour."
The trio burst into laughter and Ayushmann didn't stop there. Like a BFF, he pulled Bhumi's leg again by saying that "she's a pro" in dating. And advised Bhumi's date to be "patient in bed."
Confirming the same, Bhumi said: "I like it slow, I like it romantic."
A video features all this drama that has been shared by Vogue India on social media.
Neha Dhupia's show has become like Karan Johar's controversial talk show Koffee With Karan, where celebs reveal a lot of shocking and interesting details.
Before Ayushmann and Bhumi, Jackie Shroff and Juhi Chawla made their appearances on the show. Their highlight moment was when Jackie was asked who in between Tiger Shroff and Disha Patani is the better actor, Shroff senior replied "Tiger".
Earlier, Neha's chat show grabbed attention when her guests were designer Manish Malhotra and Sonakshi Sinha. Host Neha Dhupia had asked them a series of interesting questions and the revelations were nothing but shocking!
The first question was to name a celebrity couple who's a couple but has never admitted it. And Sonakshi quickly answered -- Deepika Padukone and Ranveer Singh. Well, this one is not a revelation as everyone knows about it.
But then, the next question was 'Hook up of 2018 will be?' And Manish answered – Alia and Ranbir! This answer created quite a stir last month.