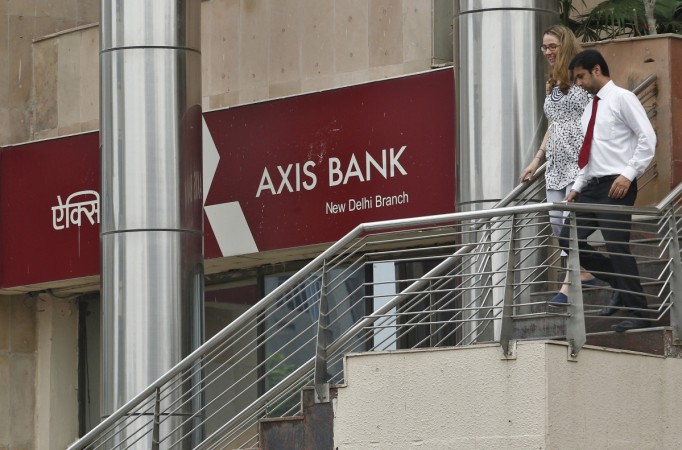 Axis Bank, India's third biggest private lender bank, on Tuesday reported an 83 percent fall in its net profit for the September quarter due to a sharp rise in bad loans. The bank's profit after tax was reduced to Rs 319 crore year-on-year (YoY) as against a net profit of Rs 1,915.64 crore for the corresponding quarter last fiscal.
Post the announcement of the Q2 results, the Axis Bank stocks reacted negatively and was trading at Rs 488.25, at around 10:36 am on Wednesday, down 7.71 percent from its previous close on the Bombay Stock Exchange.
The lender's Net Interest Income (NII), which is calculated as the difference between interest earned and interest expenditure, rose 11.12 percent YoY to Rs 4,514 crore when compared to Rs 4,062.09 crore during the July-September quarter in the financial year 2015-16.
"Retail Advances grew 25 percent YOY and stood at Rs 149,284 crores and accounted for 42 percent of the Net Advances of the Bank. Corporate credit grew 14 percent YOY and stood at Rs 158,029 crores; and accounted for 45 percent of Net Advances," Axis Bank said in a statement.
The bank's operating revenue increased 15.57 percent to Rs 7,053.53 crore for the quarter ended September 30 2016 from Rs 6, 103.49 crore during the same quarter in the last financial year.
Axis Bank's watch list loans reduced 32 percent quarter on quarter and was recorded at Rs 13,789 crore as on September 30 last month, the lender said in a statement. Additionally, the bank wrote off Rs 873 crore total assets during the quarter.
"As on 30th September 2016, the Bank's Gross NPA was Rs 16,379 crores against Rs 9,553 crores as on 30th June 2016. During the quarter, the Bank added Rs 8,772 crores to Gross NPAs," Axis Bank said.