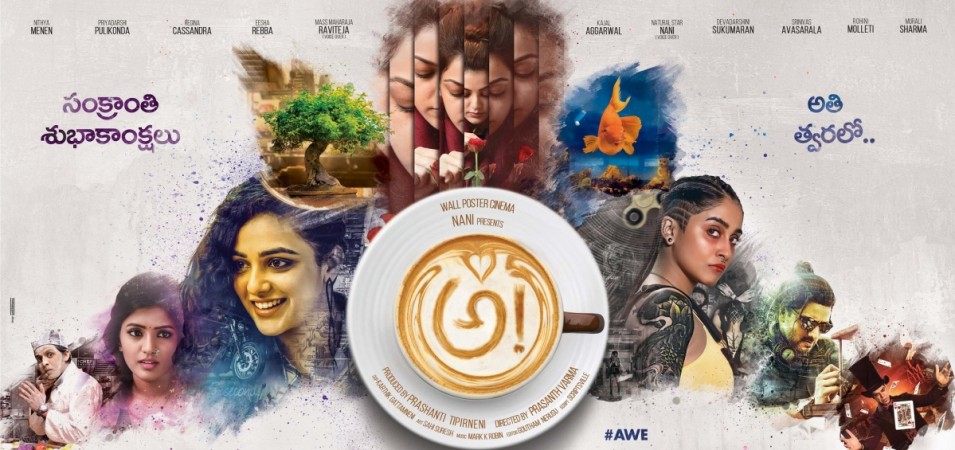 Telugu movie Awe has received rave reviews from celebs like Rahul Ravindran, Adivi Sesh, Shobu Yarlagadda and Vennela Kishore, who have praised actors Nani, Prasanth Varma, Kajal Agarwal and others.
Actor Nani made his debut as a producer with Awe. He has jointly bankrolled the movie with producer Prashanti Tipirneni under the banner Wall Poster Cinema. The film is scheduled for its theatrical release on February 16. The actor-turned-producer held its special screening for his close friends and colleagues from the industry.
Soon after watching it, some celebs took to Twitter to share their reviews on Awe, and they could not stop gushing about the movie. They lauded Prasanth Varma's amazing scripting and direction and Nani's brilliant production values. They also praised Kajal Aggarwal, Nithya Menen, Regina Cassandra, Eesha Rebba, Srinivas Avasarala, Murali Sharma and other actors' performances.
Here are some celebs' reviews on Telugu movie Awe:
Actor Rahul Ravindran: Incredible to see such big stars come together for a concept film like Awe. Wait for that climax people. @NameisNani your courage is inspiring bro Wishing super luck to @prasanthvarma and the entire team
Actress Anupama Parameswaran: Awe: a feeling of reverential respect mixed with fear or wonder. Last night I experienced the same when I was watching #AWE .. truly inspiring... a new approach to cinema with good values.. @NameisNani @PrashantiTipirn @prasanthvarma good work
Actor Adivi Sesh: Thanks & kudos to @NameisNani & @PrashantiTipirn for backing #Awe A true blue concept film with a poetic finish!
Actor Shashank: #AWEstruck What a crazy film Kudos to @NameisNani n @PrashantiTipirn for backing @prasanthvarma n his unique story #AWE Good luck guys..Wishing Huge Success Great job by entire cast n crew This is real Hatke
Filmmaker Madhura Sreedhar Reddy: Watched a superb & out of the box movie #awe. @NameisNani proved to be an intelligent as a producer also. Needs lot of guts to produce this kind of intelligent THIKKA cinema. Kudos to the director @prasanthvarma and his team for the brilliant technical work! Cheers guys!
Fashion designer Neerajaa Kona: #Awe pushes boundaries .. in every possible direction! One has to appreciate the amazing passion this team had to believe in something like this and make it come to life. @NameisNani Wishing u and ur team an amazing run starting Feb 16th ❤️
Baahubali producer Shobu Yarlagadda: #AWE is unique film with many layers! Attempts like this are rare in Telugu cinema. Please for once watch the film in its entirety, assimilate it and then write a proper review whatever it be. This is my sincere request to all..! Don't f*** it up with tweet reviews! Thanks
Comedian Vennela Kishore: #Awe creates a new genre of film making. It is a seamless blending of all genres..a film that encompasses the best aspects of each genre without being limited. No wonder @NameisNani bhayya backed this one and @prasanthvarma gariki
Director Venkat Siddareddy: Be ready for a crazy ride of cinematic brilliance. #Awe is a different film in every sense and it is good in every department.Prasanth Varma has made a truly different Telugu Film of great standard. Congratulations #Nani and everyone else involved in the film.#Awe is Awesome
Director Mohan Raja: #Awe .. Such an unique experience watching it.. A technical brilliance so rare to see.. Hats off to the cast n crew for the conviction .. So happy for u @NameisNani
Director Mohan Indraganti: AWE is a bold and unconventional attempt in the right direction With a scintillating cast, the film treads unchartered territory, catches you by surprise and leaves you wanting more My heartiest congrats to Nani, Prashanthi, Prashanth and the whole cast and crew.