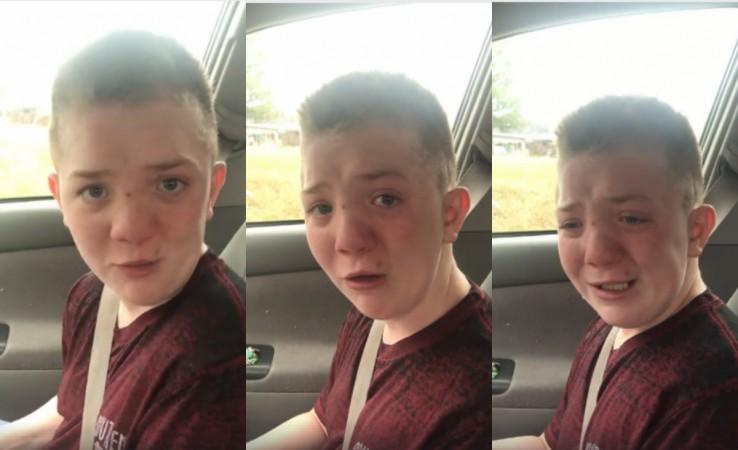 Bullying is not okay and this was the common notion shared by celebrities on social media after an emotional video featuring a Tennessee student describing his heartbreaking experience went viral.
With over a million shares online, the video shows Keaton Jones describing to his mother about his unpleasant experience of being bullied. In the clip, with tears rolling down his face, Keaton explains how milk was poured over his head and told that he has no friends and is ugly, before making a heartfelt plea.
"Just out of curiosity, why do they bully? What's the point of it? Why do you find joy in taking innocent people and finding a way to be mean to them," Keaton asked his mother while sobbing uncontrollably. "It's not okay," he added.
The viral video, shared by his mother on Facebook, struck a chord with several celebrities and soon, many sent love. Captain America star Chris Evans retweeted the video on Twitter and assured him that life will get better.
"Stay strong, Keaton. Don't let them make you turn cold. I promise it gets better. While those punks at your school are deciding what kind of people they want to be in this world, how would you and your mom like to come to the Avengers premiere in LA next year?" he tweeted, offering him to join him and other Avengers stars at the premiere of the Marvel movie.
Chiming in with Evans, The Incredible Hulk star Mark Ruffalo also invited the boy for the premiere and shared some words of encouragement. "Keaton, will you've my guest at the Premiere of #InfinityWar too? I think you are about one of the coolest kids I have ever seen! Can't wait to meet you in person, pal. Forget those ignorant kids. One day, very soon, they are going to feel pretty stupid for this," he wrote.
Evans' Infinity War co-star Josh Brolin, who also plays the role of Cable in Deadpool, shared the emotional video on his Instagram account sharing an experience of his own. The Thanos actor wrote, "I was bullied as a kid. It's horrible when you feel you can't fight back. Now, I can handle it, this kid shouldn't need to. Nobody should really need to."
Aquaman star Jason Momoa expressed his thoughts on the incident by commenting on Brolin's post. He wrote, "So upsetting, stop bullying. I got the sh*t kicked out of me by these insecure a**h*les #karma [sic]" Brolin's Deadpool 2 co-star, Ryan Reynolds liked Brolin's video to show his support.
Apart from the superhero actors, stars like Justin Bieber, Camila, Nickelback, Demi Lovato and more thronged online to show massive support and love to Keaton.
Hey Keaton Jones, I'd like to invite you to be my guest at any show of mine of your choice. I'll cover ur flights and accommodation.
Big up for speaking up, buddy!!! ?

— Zedd (@Zedd) December 11, 2017
If anyone knows how I can send something to Keaton... find a way to let me know. Have some stuff I'd like to send him. I've looked at some of these responses to his video.... very awesome. All of you. Xojd

— Jeffrey Dean Morgan (@JDMorgan) December 11, 2017
#StandWithKeaton we love u my friend- we need more of ur kindness.. compassion... bravery.. and honesty in everyone, and the whole world is learning from u- thank u Keaton ?we all got ur back✊?✊?

— camila (@Camila_Cabello) December 11, 2017