Rakshit Shetty is back with Avane Srimannarayana, three years after delivering a blockbuster in the form of Kirik Party. The Kannada actor has teamed up with debutant Sachin Ravi in fantasy adventure comedy flick in which Shanvi Srivastava enacts the role of a female lead.
Achyuth Kumar, Pramod Shetty, Salman Ahmed, Chandan Achar, Prakash Thuminad, Aniruddh Mahesh and others are in the supporting cast. B Ajaneesh Lokanth has scored the music and his Hands Up track has already created a waves among the Kannada cine-goers for the brilliant composition and Rakshit's impressive dance moves.
Karm Chawla is the cinematographer, while director Sachin Ravi has handled the editing department.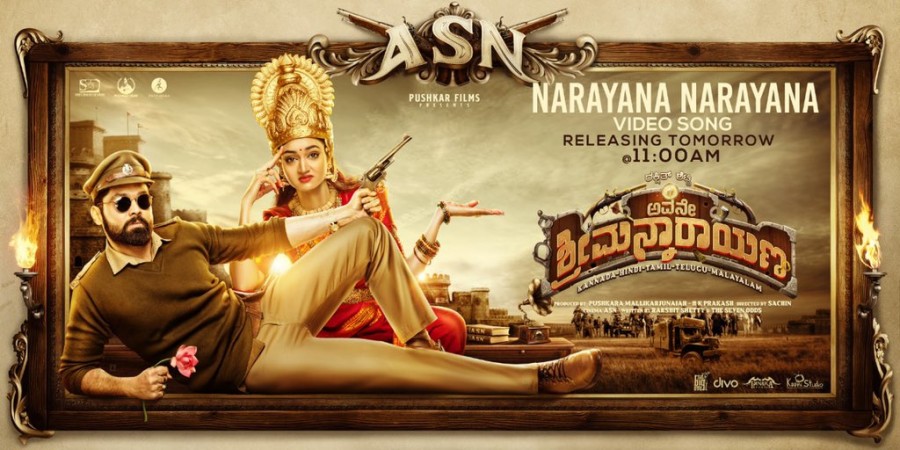 Story:
The movie is about solving a mystery in the fictional town of Amaravathi. Narayana comes to the region as a cop who has to eliminated a gang of dacoits and their and their boss Jairam. The twists and turns although with the surprises and shocks form the crux of the story.
Hype:
The movie has generated a lot of hype with its poster, teaser, trailer and videos. Especially, the fact that Rakshit Shetty is making his comeback after three years has made the viewers pin high hopes on Avane Srimannarayana. Will the Kannada movie, which has been dubbed into multiple languages, live up to the audience's expectations? Check it out in the fans' words below:
Krishna Prasad: A big thank to
@Pushkara_M Sir for this wonderfull project
Without compromising for anything you gave everything what ever this movie required
KFI is really blessed to have a quality production team like
@PushkarFilms Wishing good luck to entire ASN team✌ #AvaneSrimanNarayana
..En GoTTha.: Almost every person who watched the movie liked and appreciated the 3 years effort of #avanesrimannarayana team, except some great "shishyas" of Christopher Nolan, Steven Spielberg, Quentin Tarantino.
Hemanth M Rao: So massively proud of @rakshitshetty @Pushkara_M
@SachinBRavi @AJANEESHB @charanrajmr2701 karam, the 7odds writing gang and entire #ASN team. The film is an absolute treat, the music, visuals, performance of every single actor is simply kickass.
Manu Gowda: Came home now safely after watching at shankarnag cinemas #ASN...Again watching mrng show Good night @Pushkara_M
Satish: When u are subjected to finest display of Screenwriting and Filmmaking, it will continue to haunt you for few hours..
ASN is one such example.. Fantastic Job Guys !!
Revan Mane: Chindiii Muv@Pushkara_M first of all thanks for bringing this master piece❤️
@rakshitshetty boss no words for your acting we just lost in the movie..mind blowing Special mention
@AJANEESHB Bro bgm and music is supbb supbbb awesome✨✨ @shanvisrivastav cutness overloaded#ASN
Tharun Sudhir: An Intelligent writing, very well executed and a new experience.. Technical brilliance. My best wishes to @Pushkara_M , @rakshitshetty and entire team of #AvaneSrimanNarayana. Hats off for your efforts. #ASN
Sangeetha Sringeri: Most entertaining movie of the year is here.. Amazing Visuals!
@shanvisrivastav u were mind-blowing @rakshitshetty u as Narayana is the coolest thing i have watched u as.
Congratulations @Pushkara_M
@SachinBRavi Sir you just nailed!
#ASN #AvaneSrimannarayana
frustrated engineer: For ppl complaining about film length.
Some movies take time to tell story. Since its set in a fantasy land takes time to introduce. What do you soo called "Hollywood critics'" expect. Just tell you story in 15min and send u back home???
Our film Our pride #AvaneSrimanNarayana
Kannada Movies Forum: #AvaneSrimannarayana
one of the finest Films made in KFI First Half Filled with Good Comedy #Rakshith & #Achyuth give Comedy punch for every 2mins Second half is long but Brilliant narration The runtime of the movie shud be minimized..felt Climax was Okay
Our Rating: 3.5/5
Nandish: @rakshitshetty bro u better go to Hollywood n make movies...some kannada ppl wont accept this masterpiece...tbh..they dont hv heart to accept this...btw those fools need..item dance...and if hero hits the villain..he shld fall 10 km away..#asn..#AvaneSrimannarayana
ಒಳ್ಳೆ ಚಿತ್ರಗಳನ್ನು ನೋಡಬೇಕು...
ಕೆಲವೊಂದನ್ನು ಟೊಂಕ ಕಟ್ಟಿ ಗೆಲ್ಲಿಸಬೇಕು... ಆದರೆ ಶ್ರೀಮನ್ನಾರಾಯಣ ಚಿತ್ರವನ್ನು "EXPERIENCE " ಮಾಡಲೇಬೇಕು...ಅದೇ ಬೇರೆ ಜಗತ್ತು,,
VISUALLY ,,SOUND.,STORYTELLING ಪ್ರತಿ ವಿಭಾಗವು ಹೊಸತಾಗಿದೆ..,
ಬರಹಗಾರರಿಗೆ ತಾಂತ್ರಿಕರಿಗೆ ನಿರ್ಮಾಪಕರು ತಂಡದ ಪ್ರತಿಯೊಬ್ಬರಿಗೂ ನಿಮ್ಮ ಶ್ರಮಕ್ಕೆ ವಂದನೆಗಳು.

— ಸುನಿ/SuNi (@SimpleSuni) December 27, 2019
Nagarjun: #Halftime : Absolute MASTERCLASS.
Never before in Indian Cinema.
Just cannot classify into any genre.
It has mass heroism, intense musical, extremely plot driven.
Sooo good. Epic interval block.
#AvaneSrimanNarayana
Shashiprasad S M: #Avanesrimannaraya #interval First half #review: Roughly half the duration of the movie is over & waiting for the other half to get over
: #ASN is a must watch for its hardcore passionate craft and mesmerising performances of
@rakshitshetty Balaji Manohar & @shanvisrivastav. BGM & camerawork deserve major applause. Overall ,a movie which should be watched for its brilliant making and absolute grandeur. Review soon
Full marks to Karam Chawla camerawork and Bgm by Ajaneesh. Balaji Manohar and Pramod Shetty are terrific as villains. Dialogues are a major force of the movie. Watch out for Shanvi's new dimensional subtle performance. Waiting for second half with bated breath #ASNFirstHalf
Santhosh Kumar: #AvaneSrimannarayana half through, interesting so far
@rakshitshetty at his best n entire team had done fantastic work, movie so fresh #ASN
Rahul.R.L: #AvaneSrimanNarayana Done with first half. More than what I expected so far. Great visuals. #ASN All the characters are portrayed very well. Top notch.
cineloka.co.in: #ASN #AvaneSrimannarayana Interval.
Though Long it is Gripping & Entertaining.
@rakshitshetty Entry, Hands Up Song, Rakshit - Achyuth Jugalbandi, Interval Block are the highlights of First Half.
Camerawork & BGM #ASN #AvaneSrimanNarayana : Intelligent writing, Good Execution.
The performances from @rakshitshetty , @shanvisrivastav, Achyuth, Balaji Manohar,Pramod stands out. Technically Brilliant.
V.Good Debut by SachinBRavi. Except for the length, Movie is Superb.
Rating - 4/5.