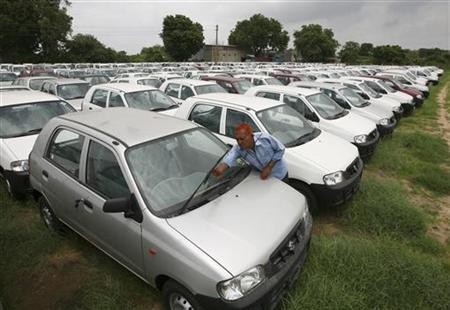 BSE Auto index took a hit on Thursday morning trade session amidst petrol price hike.
Maruti Suzuki took the worst hit, trading shares at Rs. 1,132 and reporting a fall of 1.67 percent at At 1:22 p.m. Two-wheeler titan Bajaj Auto had a 0.17 percent fall at Rs 1,484.55, while Hero MotoCorp was down 0.72 percent at Rs 1,813. Tata Motors remains at Rs 260.20, a 0.63 percent fall on the BSE.
Speculations on the forthcoming Rs. 7.5 hike per litre in petrol price induced a 1.1 percent fall in auto stocks on Wednesday morning trade. Analysts cited increased raw material prices caused by the rupee volatility and skepticism over future auto sales among factors for the cause in auto share drop.
With fuel cost accounting for around 50 percent of running expenses for vehicles, the hike will have an adverse impact on auto companies. It is reported that car prices have surged as much as 10 percent since May 2011.
The petrol price hike is expected to boost diesel vehicle sales, as diesel costs Rs 25-35 less than that of petrol.
According to reports, auto sales jumped 8.49 percent to 1,59,325 units in December 2011, the spike in sales spurred by heavy discounts amid apprehensions of an imminent petrol price hike that month. However, the growth rate slowed down to its lowest at 3.4 percent during April this year, following deterioration of consumers' sentiment caused by increased excise duty and high interest rates raised in the budget.
"Petrol cars are not selling as such already. With this record hike, the situation will go from bad to worse," Society of Indian Automobile Manufacturers (SIAM) Senior Director Sugato Sen told PTI.