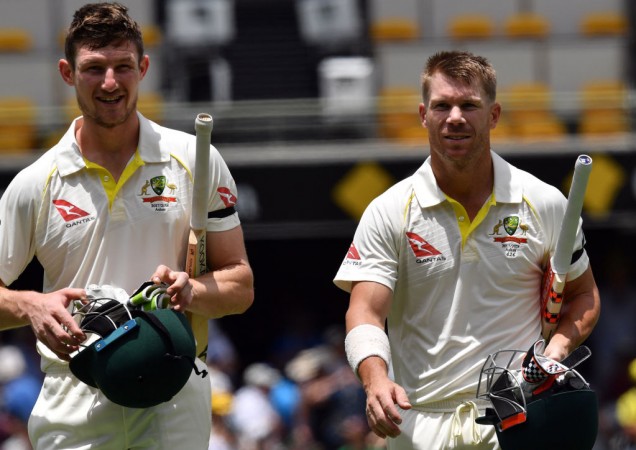 Australia vice-captain David Warner could be banned from playing in the second Test against South Africa in Port Elizabeth after he was charged by the International Cricket Council (ICC) for his off-field altercation with South Africa's Quinton de Kock.
Match referee Jeff Crowe charged Warner with a Level 2 offence and De Kock for a Level 1 offence for "conduct that brings the game into disrepute" on March 6.
The more serious Level 2 offence carries the threat of a one-match ban for Warner, while the biggest punishment De Kock can face is a fine.
The development comes after video footage from a stairwell leading into the players' dressing rooms during the first Test in Durban showed Warner being restrained by his teammates during a spat with De Kock.
Both the South Africa and the Australia camps have been given until March 7 to respond to the charges.
Australia won the Kingsmead Test by 118 runs to take a 1-0 lead in the four-match series.
"The International Cricket Council today announced that Australia vice-captain David Warner and South Africa's Quinton de Kock have been reported for breaching the ICC code of conduct following their altercation on the fourth day of the Durban Test which was captured on CCTV," the ICC said in a statement.
"Further details will be provided in due course."
Australia captain Steven Smith said Warner's reaction was triggered by "personal" comments from De Kock, but the South Africa camp alleged that the tourists had also used personal words that crossed the line.
Former Australia skipper Ian Chappell criticized Smith and coach Darren Lehmann for enabling a sledging culture within the team.
"A suspension [for Warner] would be appropriate because you need to stamp it out from the top down," Chappell told Wide World of Sports.
"But Warner gets the suspension, and while he's responsible for his own actions and words, he's being allowed to do it by people above him. I'd like to see those above him suspended for sanctioning it. If you start taking strong action like that then you'll get some sanity.
"It's always the same – the players pay the penalty for the stupidity of those above. Warner is being encouraged to be the attack dog.
"The laws of the game state the captain is responsible for the on-field actions of his players, so if Steve Smith is not stepping in he's just as culpable."