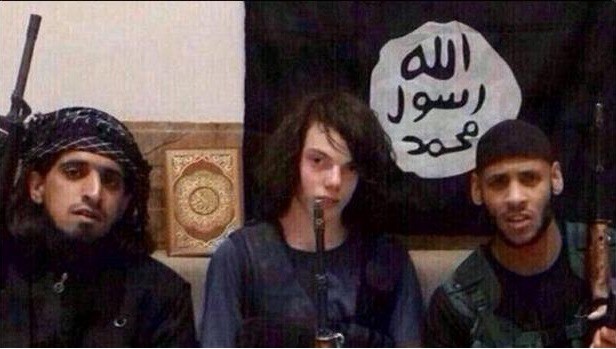 Australian teen Jake Bilardi, the 'White Jihadi' in the Islamic State, who was reportedly killed in a suicide mission in Iraq on Wednesday, had shown signs of his extremist ideology even when he was studying in a Melbourne school, through vehement posts on his blog.
Before he left to join the terror group, the 18-year-old who is said to have converted to Islam while in Class 10, had plans of carrying out "a string of bombings across Melbourne, targeting foreign consulates and political targets as well as grenade and knife attacks on shopping centres and cafes," according to the blog that he purportedly updated since 2011.
At the age of 15, Jake was reading up on jihadism in the Middle East and Islamophobia in the West, focusing several posts on attacking the United States, The Sydney Morning Herald reported.
"Maybe America should stop worrying about Islamic extremism and maybe worry about local nut jobs ... seriously, you are always being influenced by the media and the government, that's the same here in Australia, but you know what, if you're smart enough and can think for yourself you can actually realise that most of the stuff you are told are lies," a comment from one his blogposts from 2011 reads.
Jake had also reportedly updated his blog as recently as in January using his Islamic name Abu Abdullah al-Australi, wherein he had described his journey to jihad in a 4,300-word long manifesto, according to The Guardian, which accessed the blog that is now deleted.
"With my martyrdom operation drawing closer, I want to tell you my story... from being an Atheist school student in affluent Melbourne to a soldier of the Khilafah preparing to sacrifice my life for Islam," Jake wrote, describing the Iraq and Afghanistan invasions as "a turning point in my ideological development."
"It signaled the beginning of my complete hatred and opposition to the entire system Australia and the majority of the world was based upon. It was also the moment I realised that violent global revolution was necessary to eliminate this system of governance and that it I would likely be killed in this struggle," he wrote.
Jake then described how he was even prepared to "cross the border alone" before he made contact with someone online who promised to help him leave Australia.
Jake also revealed that he had signed up for an earlier suicide mission that had "failed," following which he "turned to fighting" before signing up for the "martyrdom operation" in Ramadi in Iraq.
On Wednesday, ISIS-affiliated accounts on Twitter suggested that the 18-year-old was among the eight "martyrs," who struck in Iraq's Anbar province, and also shared photos of him driving a white van, imposed with a caption saying "May God accept him."