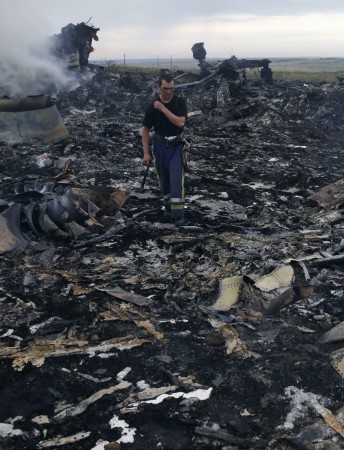 Lightning never strikes twice in the same place, they say. But unfortunately, it did for Irene and George Burrows from Queensland, Australia, who have now lost four of their close family members to the two Malaysian Airlines disasters - the MH370 (which disappeared in March) and the MH17 (which was shot down on Thursday).
The couple had lost their son Rodney and his spouse Mary Burrows, when Malaysia Airlines flight MH370 disappeared over the Indian Ocean in early March. They had no respite, however, as two more members of their family - step-granddaughter Maree Rizk and spouse Albert Rizk - died as Malaysia Airlines flight MH17 was shot down, while flying over Ukraine, on Thursday.
Maree and Albert were coming back home after a long holiday tour to Europe, when the plane was shot down, killing all 298 onboard.
When asked about the incident, George said that he did not want to make an official statement. However, he said that his family does not bear any ill feelings towards Malaysia Airlines.
"Nobody could predict this one and nothing's been proven on the first one, so there's nothing there," The Times of India quoted him. "We are still waiting for answers on the first one."
Regarding MH17, which was shot down in Ukraine, it is said that the Ukrainian media have identified a Russian military official and a rebel leader in a recorded conversation. The two were apparently discussing shooting down the flight, a while after it crashed between the Shakhtarsk region (near Donetsk) and Krasni Luch, in Luhansk.
"Just now a plane was hit and destroyed by the miners group," said a man, who went by the name of Bezler, in one such recorded call.
One of the recordings, translated by The Indimendent, also said: "We warned [sic] not to fly in our sky."
Igor Girkin, who also goes by the alias Strelkov, the Commander of the Donbass People's Militia (pro-Russian), has reportedly claimed that the flight was shot down by his own forces, over the Donbass region at around 5.50pm (local time), on a Russian social media site Vkontake.
The political blame games have started, on the other hand, with Kiev calling this an "act of terrorism". They have also put in a request to the United Nations to investigate into the matter.
Russian President Vladimir Putin, meanwhile, put the ball back in Ukraine's court, by saying that this tragedy would never have happened had the Ukraine government settled on a ceasefire.