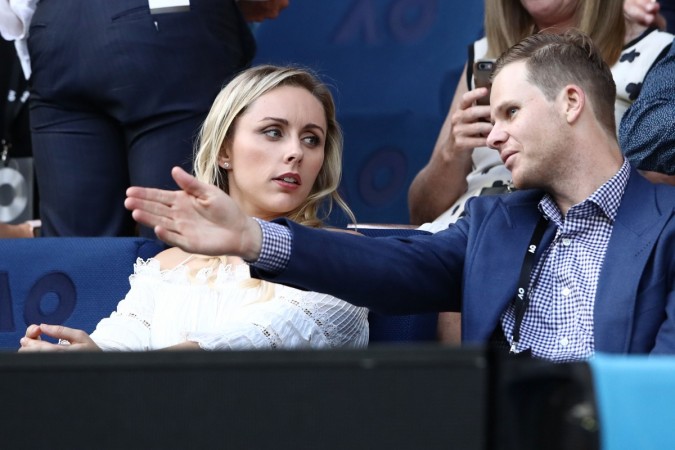 Australia cricket team captain Steve Smith may be absolutely perfect with his performances on the cricket pitch but his social media skills may be not. The 28-year-old swashbuckling batsman, who has a strong presence in both Twitter and Instagram, committed a slight error during an update and twitter fans are having a hearty laugh over it.
Smith recently accompanied his fiancee Dani Willis to the Australian Open 2018 tournament, possibly to watch a match involving Roger Federer. There, the couple clicked some pictures.
The cricketer shared one of them on Twitter but it was his message that went slightly wrong. "Great night out at the Australian Open with @dani_willis we both absolutely love our tennis! Thanks Craig Tiley for having us. What a belter of a match! [sic]," wrote Smith.
I guess you tagged wrong girl Steveee ?????

— Sumukh ? (@Sumukh__) January 22, 2018
Your twitter form is a bit like your one-day form....Patchy? Wrong Ball/Wrong Bird? Same,same but different? Still a Champion ? though! @DaniWillis91 may have to punish this bloke for this ?

— Mathew Smith (@BCHFlippenning) January 22, 2018
Nothing was gramatically wrong with the message he wrote but Smith made the mistake of tagging the wrong Dani Willis. Luckily, the tagged Dani Willis hasn't responded as the twitter user has stopped using the social media platform post 2015.
Actually, it wasn't really a mistake by Smith in the first place as he just copied the text from his Instagram post. Dani's Insta bio is @dani_willis but her twitter handle is @daniwillis91.
Dani and Smith met for the first time in 2011 and they got engaged in June 2017.
Smith is currently looking for ways out to help his team notch up victories in the last two ODI matches against England in the ongoing cricket series. After a convincing Ashes win, Australia went on to lose all their three ODIs against England and in the process have already lost the five-match series.