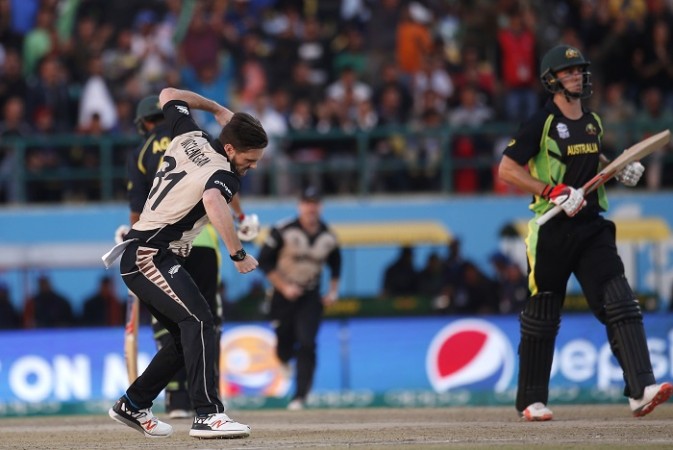 New Zealand are making defending low scores into an art in this ICC World T20 2016. After shocking India, the Kiwis showed their defending-a-low-score chops again in beating Australia by eight runs in Dharamsala.
The Kiwis are the team to beat now in this World T20, stopping a strong Australia batting lineup in their tracks, after posting just 142/8 on an albeit slow wicket at the HPCA Stadium. Australia huffed and puffed and huffed and puffed some more, but fell short in the end, finishing on 134/9.
The Powerplay overs were productive for Australia, just like New Zealand, with Usman Khawaja (38, 27b, 6x4), preferred to Aaron Finch, getting a move on with some nice shots. However, once Shane Watson fell in the sixth over, New Zealand, going in with two spinners instead of the three this time, stormed back, picking up three more wickets – of Steve Smith, Khawaja and David Warner.
Those wickets meant the onus was on Glenn Maxwell and Mitchell Marsh to take Australia home, but Maxwell (22, 23b, 2x4) just did not look at home on the slow wicket, with that scratchiness leading to his dismissal, off the bowling of leg-spinner Ish Sodhi.
Marsh, though, looked a lot more assured, waiting for those few balls, which were tossed up by Sodhi (4-0-14-1) and Mitchell Santner (4-0-30-2), to smoke out of the ground. Ashton Agar, making his T20I debut, was surprisingly sent in ahead of James Faulkner, and the left-hander struck a welcome six as well, off Santner, in the 17th over to get the equation down from 42 in 24 balls to 27 in 18.
With Australia now looking favourites, the match swung back in New Zealand's favour again, thanks to man of the match Mitchell McClenaghan (3-0-17-3). The left-arm pacer, in for Nathan McCullum and preferred over Trent Boult and Tim Southee, induced false shots from both Marsh (24, 23b, 2x6) and Agar (9, 8b, 1x6) to give Australia 19 to chase in the final over.
Corey Anderson (4-0-29-2) then ended all doubts by dismissing James Faulkner in the first ball of the final over to give the Kiwis another win.
The New Zealand innings went the same route as well, with Martin Guptill getting New Zealand to an explosive start, before the runs dried up considerably from over number seven. After a couple of decent overs, the New Zealand innings really took off when Steve Smith handed the ball to left-armer Agar.
That proved to be not the right idea, as Agar gifted Guptill with two knee-high fultosses, which was duly deposited to cow corner for a couple of big sixes. Guptill (39, 27b, 2x4, 4x6) would then finish the over off with a straight six, to build some serious Powerplay momentum.
New Zealand would go on to score 58 runs in the first six Powerplay overs, and it looked like they would easily post a score of over 180. However, with the ball getting older and softer, the pitch slowed up considerably and suddenly shotmaking wasn't that easy.
The problem with the New Zealand batsmen was that, they did not adjust accordingly. The bulk of their top order batsmen fell holing out in the deep – the same could be said of Australia as well, of course -- looking for the big shot, even Kane Williamson, who was the key man really to anchor the innings.
From 58/0 in six overs, all New Zealand managed was just 84 runs in the next 14 overs, at exactly six runs an over, as Australia fought back brilliantly with the ball, with Maxwell (3-0-18-2) and Faulkner (3-0-18-2) helping themselves to a couple of wickets each.
However, with the Kiwi bowlers doing the business again, Williamson was the one left with a beaming smile on his face.