Phil Hughes will be the name on everyone's mind when Australia and India battle it out in a four-match Test series. What was supposed to be a hard fought, this-is-what-Test-cricket-is-all-about contest will now be tinged with a bit of sadness, a feeling of "Do we even need to be here?" But the only real way to move on from the tragedy is to get back on the field and do what they do best – play cricket. At least that is what every single player, including the ones in the India team, will be telling themselves.
Everything was thrown off the regular bus the moment Hughes collapsed and fell on the hallowed pitch of the Sydney Cricket Ground, with cricket not mattering anymore, and the inevitable rescheduling following.
The first Test was supposed to be in Brisbane at the Gabba, starting from last Thursday, but with Hughes' funeral being scheduled the day before that first Test was to start, there was no way the grieving Australia players were even going to consider playing the very next day.
Therefore, the Adelaide Oval will kick the series off, perhaps fittingly seeing as Hughes had made the ground his home after moving to South Australia from New South Wales.
The first session will probably tell us just how prepared the Australian players, in particular, are, and if they even think it worthy going through the bat and ball contest.
All eyes will be on Michael Clarke, who has been passed fit, to see how the skipper copes with the loss of his great friend Hughes, who he considered as a little brother. How Clarke leads his team over the next five days will determine how competitive Australia will be – perhaps, that spirit of Hughes, which Clarke so movingly said id still with him, will help him in that matter.
Seeing how Clarke has dealt with the grief over the past couple of weeks, good money will be on the skipper doing exactly what is required of him, with that band of bat-wielding and ball-swinging men right there behind him.
For the Australian players, playing in familiar conditions, it will be the battle of the mind rather than skill, but for India, it will be both.
The batsmen failed miserably in England, with India crumbling quicker than a cookie to surrender to the hosts in a five-match Test series, which India were leading 1-0 after two matches.
The last time India came to Australia, it wasn't much of a contest either, and if the batsmen fail again, then India don't stand even the slightest of chances.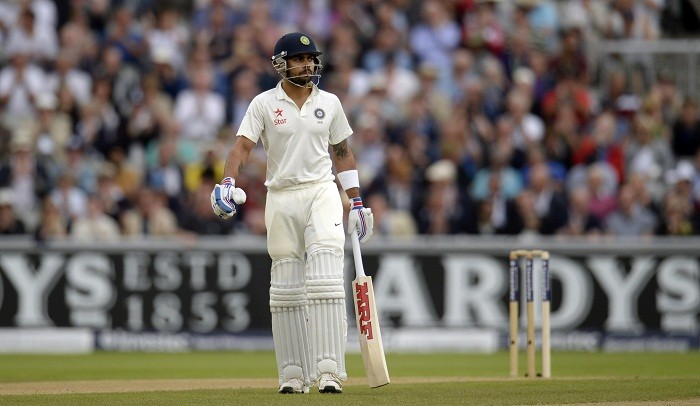 Once the batsmen step up, the bowlers will naturally get that confidence to do their bit. Give the bowlers, who undoubtedly need to pick up those 20 wickets to win a Test match, something they haven't done too often outside India, a big total to play with, and see how they go.
The willow needs to do the talking for India, only then will that red cherry start zipping around and causing the batsmen of Australia problems.
It is a hectic schedule that awaits both teams after the had-to-happen reshuffle. After the Adelaide Test, there is only a few days rest before they resume battle in Brisbane, before then playing the famous Boxing Day Test at the MCG in Melbourne.
The final Test will be at the SCG in Sydney, which has been pushed back by three days to give the players ample rest, and will undoubtedly be the most emotional one of them all.
However, once that bat and ball battle begins, maybe the last thing any of the players will want is rest, to see their minds shift back to that immense tragedy that everyone in the cricketing fraternity, and beyond, is still struggling to fathom.
Australia vs India Test Series Schedule: Tuesday, 9 December-Saturday, 13 December: 1st Test (10.30 am local time, 11 am AEDT, 5.30 am IST, 12 am GMT, 7 pm ET) at Adelaide Oval, Adelaide.
Wednesday, 17 December-Sunday, 21 December: 2nd Test (10 am local time, 11 am AEDT, 5.30 am IST, 12 am GMT, 7 pm ET) at Gabba, Brisbane.
Friday, 26 December-Tuesday, 30 December: 3rd Test (10.30 am local time, 11 am AEDT, 5.30 am IST, 12 am GMT, 7 pm ET) at MCG, Melbourne.
Tuesday, 6 January-Saturday, 10 January: 4th Test (10.30 am AEDT, 5 am IST, 11.30 pm GMT, 6.30 pm ET).