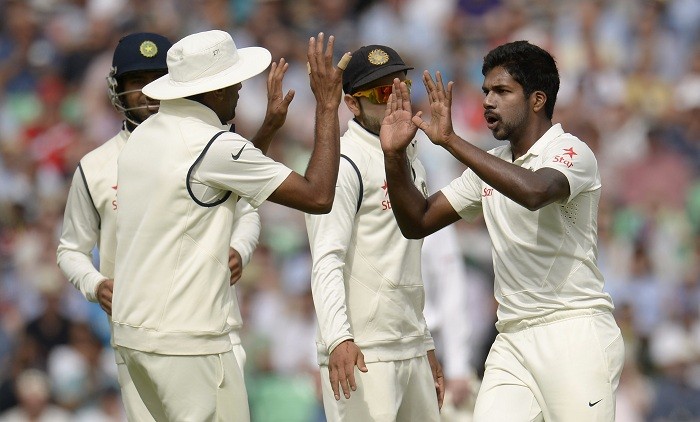 This first Test match between Australia and India has been all about the emotions, of paying tribute to a fallen cricketer, who was cut down in his prime and sent to the heavens way too early. That had perhaps taken the edge off this Test match, making it a lot more friendly than it otherwise would have been.
Nothing brings everyone together more than tragedy, and, of course, there was no greater tragedy than the death of Phil Hughes, with pretty much all of the Australia players battling their own demons on how to cope with their loss heading into this vital first Test in Adelaide.
However, when you have personalities like David Warner -- who, it must be said, was one of the most affected by Hughes' death, having been a good friend and watched that bouncer strike his teammate down in person -- Varun Aaron and Shikhar Dhawan on the field, tempers are bound to fray, with that friendliness easing up a little in the heat of the battle, which had previously been cooled down by cold, hard reality.
That "enough of the friendly, let's get back into serious, banter competitive mode" button was pressed in the 34th over of the Australia second innings on Day 4, just before Tea.
Aaron, only given the ball in the 32nd over by skipper Virat Kohli, fired up and with a point to prove bowled a seriously hostile four-over spell, reversing the ball brilliantly and troubling both the Australia batsmen – Warner and Shane Watson, who until then had rarely been troubled, particularly Warner.
The India fast bowler is a treat to watch when he is on song, but he does remind you a little of S Sreesanth – ridiculous talent, but just loses his head a little too much while bowling.
Aaron, though, this time was in the mood, bowling wonderfully well, and was duly rewarded with Warner's wicket, with the left-hander until then carting the India bowlers all around at Adelaide Oval.
When you get a batsman clean bowled, and that too a batsman who had been in full flow, you are bound to give him a send-off and a nice little send-off Aaron did give Warner. The twist was only beginning, though. Umpire Ian Gould asked to check for the no-ball, and replays showed a massive no-ball.
Warner was asked to come back, and he was never going to just walk back quietly was he? The left-hander gave it back to Aaron, with a few taunting "c'mons" ringing around the ground and it was open season after that.
Dhawan, fielding at short cover decided to get in on the action, saying a few "kind" words to Warner – his Sunrisers Hyderabad teammate, remember – with Warner, obviously not holding back either, while Watson got in on the act as well.
It was all getting a little out of hand, with Kohli, yes that impetuous, always-losing-his-temper Kohli, playing the peacemaker.
Warner and Aaron would have a go again in the next delivery after the batsman got to the non-striker's end courtesy a single, with the Aussie even blowing Aaron a kiss, which he has done in the past (just ask Kieron Pollard).
And yet again, it was captain Kohli who nipped it in the bud, talking patiently with Warner, and showing a lot of maturity while kindly asking him to cut it out and just walk away.
It was the spice that was missing in this Test match, and that, if anything, should help all the players to move on further from the grief that they are all fighting with.
Good old Test match cricket it was, and thanks to Kohli (yup, still hard to believe ain't it) it did not get out of hand.