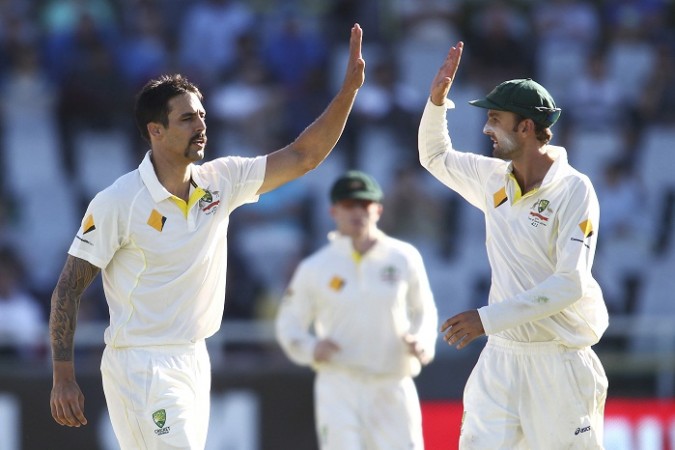 Virat Kohli and Murali Vijay took India to the brink of victory in the first Test in Adelaide, a magnificent victory, only for Nathan Lyon to bare his teeth and banish those hopes in emphatic fashion.
Kohli and Vijay had put on an outstanding 185-run partnership for the third wicket, with the duo both inching towards hundreds and that last day victory in the first Test in Adelaide very much in sight.
Then came a delivery which spun and rapped Vijay on the pads when he was on 99, and from there everything unravelled rather dramatically.
India were staring down a daunting challenge after Australia declared overnight to set them a target of 364, and after a few early hiccups courtesy wickets of Shikhar Dhawan and Cheteshwar Pujara, that challenge only looked more difficult.
But had Kohli and Vijay stayed together a little longer and pushed on after their respective hundreds, then a stunning outright win would have very much been a reality.
Instead it was to be Lyon's day, the off-spinner taking full advantage of rough on the pitch to spin Australia to a nerve-wracking 48-run victory.
Lyon finished with his best figures in a match by some distance while taking seven for 152 in the second innings as Australia stopped India at 315 in 87.1 overs to take a 1-0 lead in the four-match series.
For most of the day, it looked like Kohli (141, 175b, 16x4, 1x6), the captain-batsman extraordinaire, and Vijay, making a piece of rock look like jelly, would make history for India, with runs flowing a lot more easier than it did early in the morning, and wickets drying up for the Aussie bowlers, particularly Lyon, who had looked like being the match-winner as India struggled to negotiate the off-spinner on a wearing day five pitch.
India went into Tea in a strong position on 205 for two in 61 overs, with the target brought all the way down to 160 runs.
And India took the score from 205 to 242, before Vijay (99, 234b, 10x4, 2x6) was trapped by Lyon. There was still hope for India as long as Kohli, serene and ridiculously good, stayed in the middle, despite Ajinkya Rahane falling to Lyon for a duck after the umpire raised his finger for a bat-pad that did not exist.
Rohit Sharma (6) hung around for 18 balls, but did the cardinal sin of flopping forward on a wearing pitch and found a glove to leg slip, leaving Kohli with all to do.
Wriddhiman Saha (13, 10b,1 x4, 1x6) also raised India's hopes with a couple of lusty blows, but the inexperience told as he went for one big shot too many, allowing Lyon to bamboozle him in the flight and hit middle stump.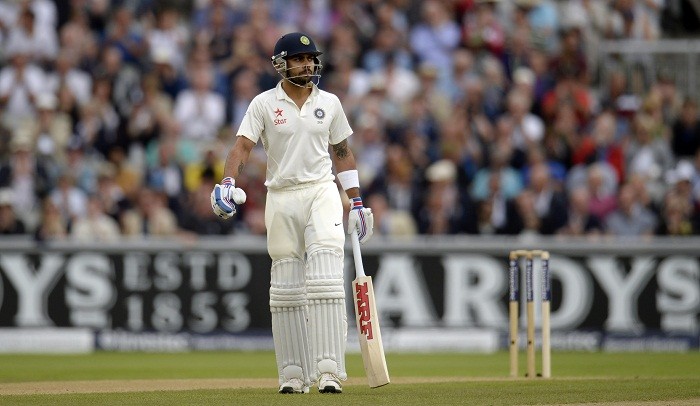 Kohli then became the seventh wicket with India needing just 60 runs for victory, pulling a long hop straight to Mitchell Marsh at deep midwicket, and the inconsolable skipper knew the game was over.
The rest was as simple as one, two, three with Australia taking the final eight wickets for just 73 runs to turn everything around after Tea and fashion a terrific victory in memory of their fallen teammate Phil Hughes.
Earlier, you felt it was going to be Lyon's day as he prowled around like a caged animal wanting to be unleashed, and even if India (read Vijay and Kohli) held the spinner at bay for a long period, once he sunk his teeth into the batsmen, it was game over.
Shikhar Dhawan (9, 8b, 1x4) continued to disappoint – how far away that incredible debut knock against Australia seems right now – perishing in just the 25th ball of the day, albeit unluckily.
It was an expected short ball from Mitchell Johnson, with Dhawan looking like an extremely bad ballet artist trying to play that delivery. The ball hit something and looped up down the leg side to Brad Haddin behind the wicket, and the umpire, unfortunately for India, thought it was the bat/glove and raised that index finger.
Replays, of course, showed there was no bat or glove involved, only Dhawan's shoulder, but, again, India only have themselves to blame for not utilising the DRS option.
The Dhawan wicket put India on a "where do we go from here" 16 for one in the fifth over, and with 98 overs to play in the entire final day of the first Test in Adelaide, things could have gone awry pretty quickly.
But, Murali Vijay, rock solid as ever, and Cheteshwar Pujara settled things down with a decent partnership of 41, while, more crucially, eating up 15 overs, and India looked to have negotiated the tough early examination.
However, the batsmen never really looked comfortable when facing Lyon – Vijay was extremely lucky to survive an lbw appeal -- and a wicket almost seemed inevitable. Shane Warne, who knows a thing or two about spin bowling, predicted a wicket was coming in the over – the 20th of the innings – as the batsmen continued to look all at sea to Lyon's controlled, "hit the areas, particularly the footmarks, consistently" bowling, and a wicket did come.
Pujara (21, 38b, 4x4) did not go fully forward or back, and just prodded at a delivery which just held its line a touch, and presto a nice little edge was taken by Haddin behind the wicket.
That was a big blow for India, as Pujara is tailor-made for batting out an entire day.
On the flipside, though, it brought in Kohli, fresh from his century in the first innings, and the game suddenly looked completely different.
Kohli was aggressive right from the off, looking for runs and boundaries, and rarely getting troubled by Lyon. He also pulled Johnson with aplomb, and, just like that, it was looking all hunky dory for India again.
Vijay did his bit quite well at the other end as well as the two batsmen put on an immaculate partnership to take India to a position of comfort, with Australia's woes only increasing as captain Michael Clarke limped off the field, and out of the stadium, with another injury – either to his ankle or that pesky hamstring again.
In the end, however, that agonising final step remained untaken for India as Australia celebrated an emotional victory.