David Warner, what a "takes the game away from you just like that" batsman he is, irrespective of the format. The left-hander was in his elements again, putting the hapless India bowlers to the sword to put Australia in a dominant position after Day 4 of the first Test in Adelaide.
Warner had given India the heebie jeebies in the first innings, striking a belligerent 145, and the Australia opener picked up from where he left off with another free-scoring, four and six-hitting century of immense value -- 102 (166b, 11x4, 1x6) to be exact -- to allow the lower order – read Steven Smith and Mitchell Marsh -- to go berserk in the final hour of the fourth day to put Australia in complete control.
Australia eventually finished day four on 290 for five in 69 overs, to take a lead of 363 runs, which puts India under extreme pressure going into the final day of this match – Aussies will no doubt declare overnight -- even if the pitch still looks like a good batting track -- as long as they play Nathan Lyon well, that is.
India, who were bowled out for 444 on Day 4 morning, did not have the greatest of days with the ball, with only Chris Rogers (21, 45b, 2x4) perishing early, and that too of his own making, holing out to Rohit Sharma at midwicket while going for a big heave off Karn Sharma.
Australia were 38 for one at that point, and Warner took over from there, smashing the ball to the boundary line at will, with Shane Watson (33, 86b, 4x4, 1x6) giving him good company until Tea.
The match did get spiced up a little as well, after Varun Aaron (10-0-43-1), who only got to bowl in this innings in the 32nd over, clean bowled Warner in over number 34, but umpire Ian Gould asked for a replay to check for the no-ball and a big no-ball it was.
The – to put it kindly – banter escalated from there, with Warner giving it back to Aaron, who had given him a proper send-off, with Warner's Sunrisers Hyderabad teammate Shikhar Dhawan joining in the fun again.
All that was just a sideshow, though, with Warner having the last laugh with yet another scintillating innings.
Once a reverse-swinging Mohammed Shami (11-2-42-1) sent Watson packing, Steven Smith joined Warner at the crease, to slowly but surely increase that run rate. Warner celebrated his hundred, his second of the match, with a now familiar leap, before falling soon after, castled by Karn Sharma while going for a switch hit.
However, that mattered little for Australia as Smith and Marsh cranked it up towards the end, putting on 53 runs in 33 balls to bulk up that lead. Marsh (40, 21b, 4x4, 3x6) eventually perished in the deep, but the damage had been done, with Smith (52 n.o., 64b, 5x4), a centurion himself from the previous innings, carrying on like only he can to take Australia to a daunting second innings total.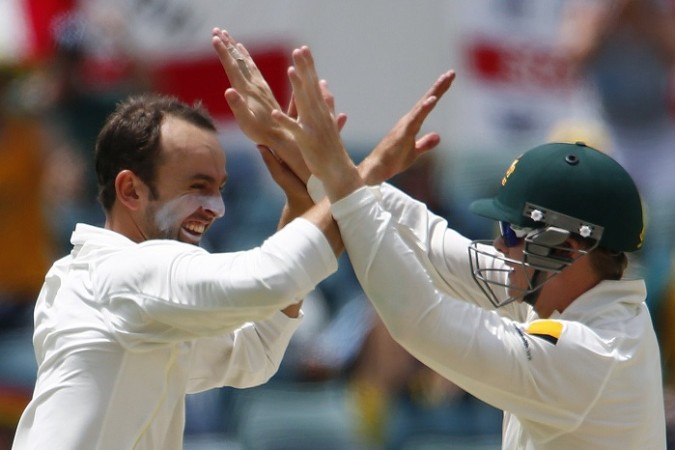 Earlier, the Day 4 batting plan for India would have been – keep Rohit Sharma and Wriddhiman Saha at the crease for as long as possible, preferably the entire first session, and cut that lead well into the double digit mark.
Well, for over 45 minutes that plan seemed to be going swimmingly well with Rohit and Saha looking quite comfortable at the crease, with Mitchell Johnson also unable to trouble the India No.6 and No.7.
Then came Nathan Lyon into the Adelaide den to change the course of play on Day 4, dismissing Rohit, before Karn Sharma, soon after, succumbed to the pace of Peter Siddle.
Soon, India were staring at a quick "Ok we're going to be bowling soon on this flat pitch" scenario, with Mohammed Shami bringing out his attacking instincts to the fore with a quickfire 24-ball 34 (3x4, 1x6) to at least help India to 444, which considering the way India have batted away from home of late, is not too bad.
Australia openers –Rogers and Warner – saw off the remaining 10 overs before Lunch comfortably enough – there certainly was no Warner assault this time – to finish on 32 for no loss, for an overall lead of 105 runs.
It all began in earnest for India, with Rohit picking those singles at will, while Saha (25, 68b, 2x4), after a circumspect start, also started to find the boundaries, including two from two balls off Johnson (22-6-102-2). India were inching towards that Australia total, getting to a position where the deficit would go below well 100, only for Lyon to, yet again, strike, and strike at will.
Rohit (43, 89b, 5x4) was the first to go, stepping down the track to Lyon, before deciding to push the ball to the leg side after realising he had not come to the pitch of the ball. Unfortunately for the batsman, all that push managed to do was lob the ball up to Lyon, who took a nice diving catch low to his right.
Karn Sharma, who can bat a bit, never looked comfortable at the crease, getting beaten by Lyon on a couple of occasions, before fumbling against the pace bowlers.
The India leg-spinner was lucky to survive a lbw appeal after shouldering arms to a delivery from Siddle, before, off the very next delivery, Siddle seemed to say "Alright, let's just get through him then and strike timber so that there is absolutely no doubt," and hit the timber he did, castling Karn to make it 406 for seven.
It was the Lyon (36-4-134-5) show after that, notwithstanding a few lofty blows from Shami, with the off-spinner picking up the solid Saha, who was unlucky to be given out bat-pad, when there did not seem to be an inside edge, before sending Ishant Sharma packing, with the batsman, this time, definitely making contact en route to the ball looping to short leg.
Shami attempted to bring out his own specially packed pyrotechnics, but after a few ooh and ah moments, and a couple of cracking shots, including a huge six over midwicket, the inevitable came, as Shami edged one off Siddle (18.4-2-88-2) to Watson at slip with India folding for 444 in 116.4 overs, 73 runs behind Australia's first innings total.