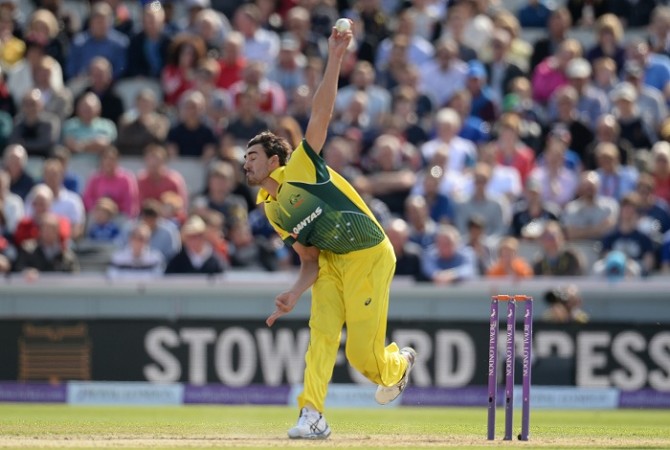 There have been instances of players getting injured while representing a particular team on the playing field, but then there are cases of bad luck as well when sportspersons get injured due to some freak accidents during training. The same happened with Australia cricketer Mitchell Starc, whose left shin hit some training equipment, and there was blood oozing out of the wound at Hurstville Oval in southern Sydney.
Starc had to be taken to the hospital, where he had to get 30 stitches, which puts him in doubt for the Test series against South Africa in November. Starc will be in the hospital for two days, and the stitches will only be removed in the next 14-21 days.
Despite the number of stitches, Cricket Australia CA chief medical officer John Orchard is hopeful that the player could be in contention to start the South Africa series.
"Fortunately there were no bone fractures or tendon damage to his leg and he underwent surgery this afternoon to clean the wound and received approximately 30 stitches. He will remain in hospital for the next few days to minimise movement to his leg and will use an extension brace for the next 2-3 weeks until his stitches are removed," The Australian quoted Orchard as saying.
"At this stage, barring any complications, we are hopeful he is on track to play at the start of the Australian summer."
Even after the stitches are removed, the bowler will need some time to recover, and bowl in full tilt. The Australian was out of the game for quite some time after injuring his knee in November 2015 and the pacer only made a comeback in the ODI tri-series in West Indies in June 2016. He also featured in the Test and ODI series against Sri Lanka last month.
Now, it remains to be seen if this freak training accident will lead him to miss some crucial matches for Australia. While the pacer was already rested for the ODI series in South Africa, the million dollar question remains – will he be fit to represent his national team in the Test arena in November? Only time will tell.