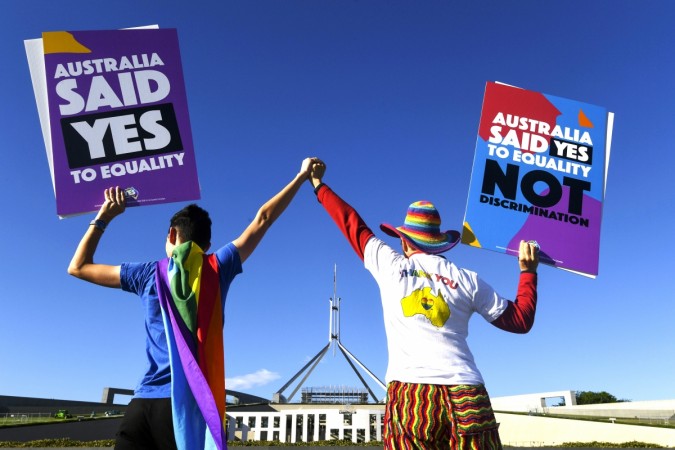 It's a happy, happy day down under because same sex marriage has just been legalised in Australia!
Just three weeks after a national referendum showed strong support from same sex marriages, the Australian Parliament voted overwhelmingly to follow the change that public had desired for years.
Also read: Australian activists launch legal action to stop postal vote on same-sex marriage
The Senate had passed the legislation last week, and the final approval in the House of Representatives came with just four votes against the bill.
Prime Minister Malcolm Turnbull, a long-term patron of gay marriage, who had also previously tried to legalise it, claimed on Thursday, December 5, "This belongs to us all. This is Australia: fair, diverse, loving and filled with respect. For every one of us this is a great day."
The reactions among the immediate public were a sight to behold as right after voting, spectators in the public gallery began singing "I Am Australian," while the lawmakers looked up at the gallery and wiped tears off their side at the monumental step the Australian government has taken.
Recognising same sex marriages from other countries too, the new legislation changes the definition of marriage in Australia from "the union of a man and a woman" to "the union of two people."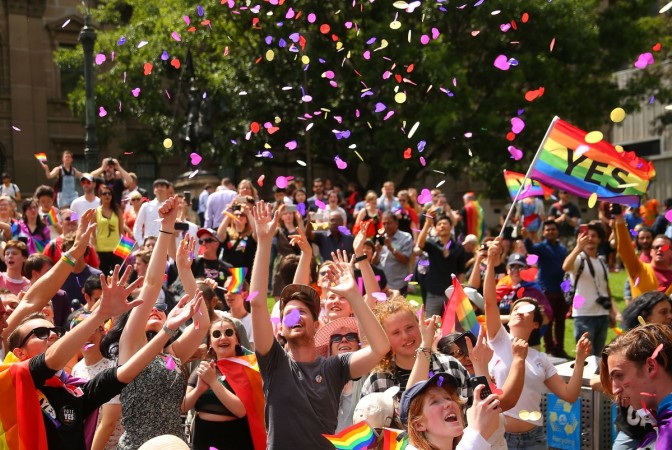 Even former Prime Minister Tony Abbott, a staunch critic of same sex marriage, came forward in solidarity to show his support for the legalisation of gay marriage, as reported by the New York Times.
"When it comes to same-sex marriage," he said, "some countries have introduced it via the courts, some via Parliament, and others — Ireland and now Australia — by vote of the people. And that is the best way because it resolves this matter beyond doubt or quibble."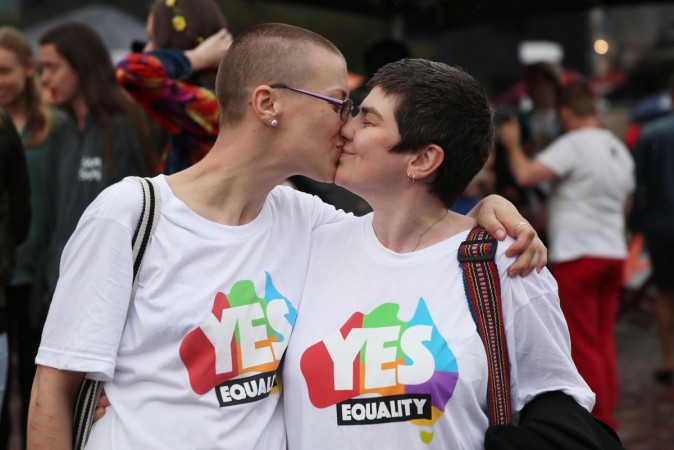 It truly is a remarkable day worthy of celebration, considering Australia's notorious history with Homophobia, and sure enough, the general public and celebrities alike, took to social media to express their joy and pride over it.
Australia, y'all are shady for stealing the pavlova but here in NZ we're perfectly happy with you stealing the idea to legalise gay marriage - congratulations Australia ??️‍?#VoteYes

— Andrew Macfarlane (@andrewmacfnz) December 7, 2017
honestly didn't think Australia would legalise gay marriage so soon in my life. Took long enough but others have waited longer & FOR THAT I AM GRATEFUL.

— Alicia (@LilRockerLeesh) December 7, 2017
ID LIKE TO ALERT EVERYONE THAT GAY MARRIAGE IS LEGAL IN AUSTRALIA, THATS ONE BIG FUCK YOU!! TO HOMOPHOBIC ARSEHOLES!!!!!!!!! ❤️????❤️????❤️????❤️????❤️????❤️????❤️????❤️????❤️????❤️????❤️????❤️????

— Sarah loves joanna (@ottercaki) December 7, 2017
Filled with magical gay powers bestowed upon me by my new enchanted rainbow empress gem on the night of Australia's historic marriage equality ruling bc I am a gay wizard pic.twitter.com/a4grh6qS36

— Simon Curtis (@simoncurtis) December 7, 2017
in the same week rosa diaz came out as bi and australia achieved marriage equality we are truly living the gay life

— tasha (@mclodramas) December 7, 2017