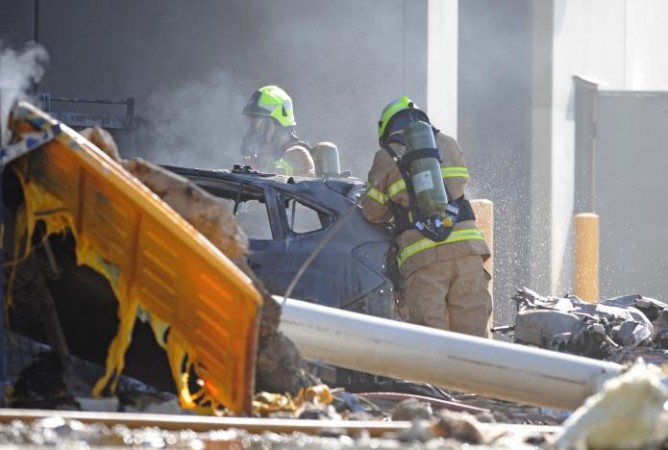 At least five people were reported dead after a light aircraft exploded in a "massive fireball" on Tuesday and crashed into a shopping centre near Melbourne, Australia. None of the people on board the aircraft survived, according to police.
The Beechcraft plane crashed into the shopping centre a few moments after taking off. The shopping centre, which was next to the Essendon Fields airport, was still closed at the time of the crash, saving possibilities of further casualties. Reports state that the centre was not due to open for another hour and no one was inside the centre at the time of the incident.
"Five on the aircraft and looks like no-one has survived the crash," said Victoria police assistant commissioner Stephen Leane, AFP reported. Victoria premier Daniel Andrews called the incident the state's worst air accident in three decades.
The plane, which was a private charter from Essendon to King Island, crashed just short of a major motorway, which is usually jammed with a heavy traffic of early commuters. The television footage of the incident showed a burned out wreckage and a huge damage to the shopping centre and the buildings nearby the incident.
"It appears a light plane, which is a charter flight, has impacted the DFO (Direct Factory Outlet) at Essendon Fields...There's also debris that's been left on the freeway," police minister Lisa Neville said.
A cab driver reported the incident to ABC radio and told them of a "massive fireball." "I saw this plane ... when it hit the building there was a massive fireball," the man named Jason said.
"I could feel the heat through the window of the taxi, and then a wheel -- it looked like a plane wheel -- bounced on the road and hit the front of the taxi as we were driving along."
Although the cause of the crash has not been determined yet, Victoria police superintendent Mick Frewen said investigations centred on a "catastrophic engine failure."
Frewen said that the plane had made a May-Day call before crashing into the shopping centre.