Australia is preparing itself for a possible military attack from China in the wake of growing hostilities over the Taiwan Strait conflict and Chinese military expansion in the Indo-Pacific region. It is strengthening its military capabilities and forging alliances with major powers as well as small nations to thwart Chinese belligerence. It can be reflected in the expedition of the process to procure nuclear-powered submarines from the US and UK. Australia is also building ties with China's traditional enemies, like India and Japan.
Australia felt the brunt of rising Chinese aggressiveness that seeks to have economic and military control in the Indo-Pacific region. Australia was subjected to economic coercion after it sought an independent inquiry into the origin of the novel coronavirus. Australia which had got close to China a decade ago has now moved back to the traditional west block-headed by the US. Now it has signed a deal with the US and UK to get nuclear-powered submarines to thwart Chinese aggression in the region. The US even mulling to build a submarine garage in Australia.
The high-level defence partnership between the US, UK and Australia puts pressure on China's surface forces as the stronger subsurface capability will allow the allies to operate its warships across Indo-Pacific, especially, in the contested regions. The Philippines is considering joint patrol with the US and Australia in the South China Sea. The Philippines defying Chinese hegemony is a big development. All these developments send a clear signal to China and may help Australia counter Chinese threats. China has been building military bases across Indo-Pacific, where nuclear-powered attack and ballistic missile submarines are reportedly kept.
China is said to be engaged in peacetime military build-up for all-out war as it expects the major powers including Australia would intervene when it attacks Taiwan. National security experts in Australia are sceptical of China going to war with the country within three years. Peter Jennings, who served as deputy secretary to Australia's Defence Department, said "It really is all about China, China, China. There's no question about that." Sydney-based think tank Lowy Institute in a poll found that three-quarters of Australians feel China would attack their country.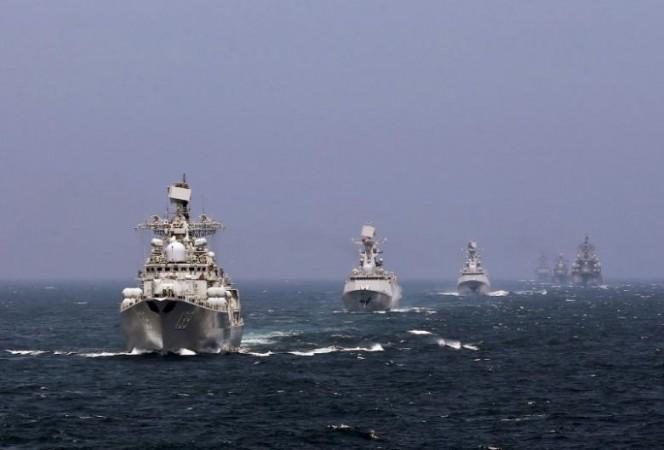 Many experts think the Chinese threats are not limited to Australia only. Chinese President Xi Jinping often wearing combat fatigues and giving calls for war is being taken seriously now. Lavina Lee, a foreign policy expert from Macquarie University, said "I have to say, the critical threats stem from one source – China. I think China presents the most comprehensive challenge to the regional order that we have faced for the last 70 years after World War II."
The QUAD group- comprising Australia, India, Japan, and the US, has maintained it is a non-military group and did not aim at countering China. However, it does try to prevent China from challenging and disrupting the rules-based order and the status quo in the Indo-Pacific region. But it is a known fact that the QUAD group intends to counter Chinese military threats. UK Prime Minister Rishi Sunak recently said that China "represents a challenge to the world order", and thus the UK was taking the potential threats from China seriously. The possible Chinese threats to the global community have brought the US, UK, Australia, India, Japan, and even smaller nations in the Indo-Pacific together.
Australia scaled up security and development with the Pacific Island nations after China and the Solomon Islands signed a security agreement in 2022. Australia cannot remain ignorant of the presence of the Chinese military within just 1,771 nautical miles if China builds defence bases in the Solomon Islands. Australia is making efforts to strengthen its relations with the Pacific island nations. Australia in January 2023 signed a security pact with Papua New Guinea. It is also helping the Federated States of Micronesia, Kiribati and Nauru to build an undersea fibre-optic cable. Australia is also working to shore up military ties with China's Asian rival India. Both countries can block China's movement in the Indo-Pacific if Beijing's actions cause a big-armed conflict.