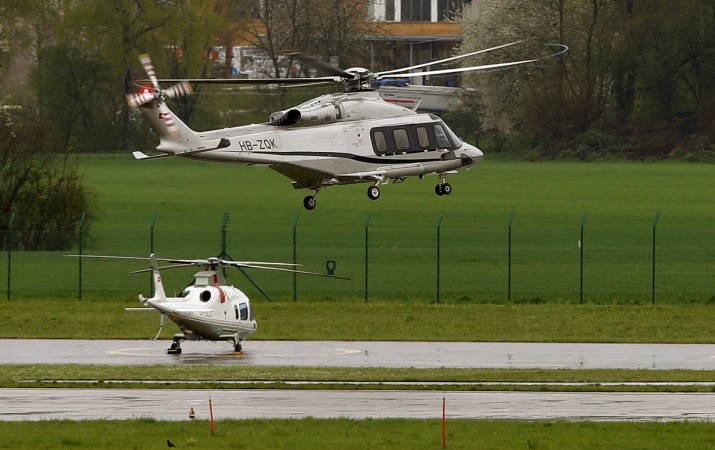 Accusing the previous UPA government of violating the procurement process by favouring a particular vendor, India's Defence Minister Manohar Parrikar on Wednesday placed before Parliament a detailed chronology of events and facts on the AugustaWestland chopper deal.
"A number of steps were taken by the UPA government from 2005 onwards that resulted in the acquisition of AW helicopters," the BJP minister said in his speech in the Rajya Sabha.
The alleged tweaking of rules, particularly the one that lowered the chopper's flying height from 6000m to 4500m, was harangued by both parties as how AugustaWestland was consciously accommodated to be the sole vendor. Both the parties traded accusations on each other for lowering the height and other terms of the now-collapsed deal.
"AgustaWestland helicopters were still in development stages. Their field trials were carried outside Indian soil callous to its suitability to Indian topographical conditions. Many Indian offsets partners were not eligible, and the allowed offsets were not compliant with India's defence procurement policy," said the minister.
"The benchmark cost given by the Contract Negotiation Committee was unreasonably high and had provided no realistic basis for price negotiation," Parrikar said, citing a Comptroller and Auditor General (GAG) of India report.
Highlighting how the investigation in the country had been thwarted by vested interest from the previous regime, the defence minister argued that "it appears an invincible hand was guiding actions or inactions by the CBI and the ED." He added that an Italian court's ruling pointed out corruption at higher echelons of Indian politics; calling it as a controversy which also "damaged India's global image."
AK Antony, who was the defence minister during the UPA regime, said his government had been the first to call AugustaWestland deal as corrupt and cancelled the deal. He said the Congress party was the first to blacklist the company in February 2014. Also, "decision to change the height was taken by your government, don't put that on us," he told the BJP.
The party members walked out of the house immediately after the speech by the defence minister, demanding a Supreme Court-monitored probe on the scam.
Quotes in RS on the Chopper scam
It is proved beyond doubt there is corruption in this deal, you (government) have to act now - AK Antony, former defence minister.
There was a clear effort to eliminate all other companies so that only Agusta would fit the required criteria - Subramanian Swamy, BJP MP.
Why was a company termed as "tainted" and "bogus" by the BJP president allowed to participate in aero displays in Bengaluru in 2015, questioned Abhishek Manu Singhvi.
Here is an insecure ruling party trying to foist a charge of corruption on persons unconnected: Singhvi, Congress leader in the Rajya Sabha.
"Why did UPA not initiate an investigation into who all took bribes in the AgustaWestland deal?" Bhupendra Yadav, BJP MP.
Collated from news reports from the Indian Express, the Hindustan Times and NDTV.