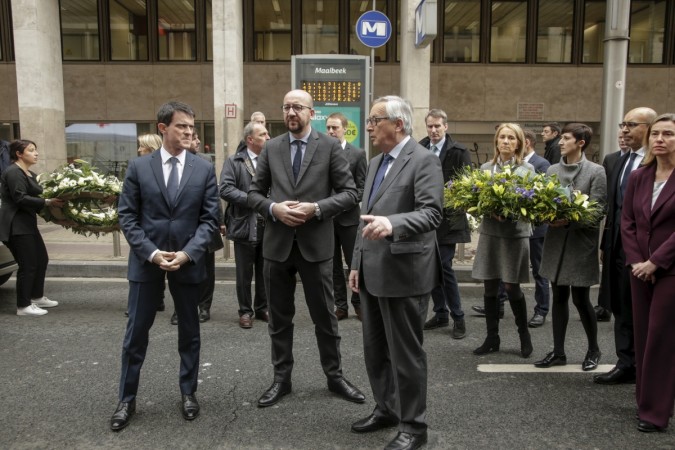 Files containing information about Belgian Prime Minister Charles Michel's office on the Rue de la Loi 16 and his official residence, on the Lambermont Street, were found on a laptop that the Brussels attackers used, Belgium's newspaper De Tjid reported.
The laptop had pictures and plans of the buildings of Michel's office and house, Reuters reported, citing the Belgian daily that quoted its sources.
The computer that was recovered from a trash can at the Max Roos Street in Schaerbeek area of Brussels is suspected to belong to the bombers who attacked the airport. The investigators are yet to ascertain about the ownership of the laptop, but they found a note by Ibrahim El Bakraoui on it.
Ibrahim was the first person to blow himself up at the departure hall of the the Zaventem Airport. In the note, Ibrahim said he knew he was being hunted by the police and that he did not want to be arrested and spend his life in jail.
Around 15 kg of triacetone triperoxide (TATP) explosives, 150 litres of acetone, 30 litres of hydrogen peroxide, detonators, screws, bolts and bomb materials were found from an apartment located on the same street from where the laptop was recovered, the De Tjid report said.
The attackers had boarded a taxi to the airport on March 22 from the same apartment, it added.
There was no comment from the Belgian prime minister's office on the news report.
At least 32 people were reportedly killed in the attack, claimed by the Islamic State group, or ISIS, at the airport and Maelbeek metro station March 22. The deceased also include an Indian, identified as Raghavendran Ganesan who was an Infosys employee working on a project in Brussels. He was on the metro at the time of the bomb blast.