Asus launched the much-anticipated Zenfone AR in India on July 13 months after it was unveiled at Consumer Electronics Show (CES) in Las Vegas.
During the event, we had the opportunity to check out the Zenfone AR, touted as the world's first Google Project Tango and Daydream (VR: Virtual Reality)-ready smartphone. It is available exclusively on Flipkart for Rs 49,999.
Is it worth Rs. 49,999? Here's our take on the Asus Zenfone AR:
Asus Zenfone AR (Google Project Tango v2.0)-Design and display:
Asus Zenfone AR is a stunning device; it comes with a top-notch leather finish shell, which not only exudes a premium feel, but also offers good grip. The phone's frame is made of aircraft-grade aluminium alloy offering stability to the structure of the device. Kudos to the Asus Zenfone AR design team for their craftsmanship. The new phone is sturdy and yet elegantly sleek. Despite the generous use of metal and enormous body dimensions (height x weight: 158.67 x 77.7mm), the Zenfone AR is surprisingly light weight and sleek. It measures just 4.6mm at the edge, while it tops 8.55mm at the middle.
As far as the display is concerned, it features a 5.7-inch WQHD (2K: 2560x1440p) resolution.
Asus Zenfone AR (Google Project Tango v2.0)-Processor, RAM and storage:
Since the Asus made its debut in January, it came with a generation old Qualcomm Snapdragon 821 quad-core processor, but don't dismiss the phone just yet, as it is supported by PC-grade LPDDR4 8 GB RAM and 128 GB inbuilt storage (expandable up to 2 TB via microSD card), which will give any flagship phone including the Samsung Galaxy S8 series, a run for their money.
Asus Zenfone AR (Google Project Tango v2.0)-Camera:
This is most important aspect of the Asus Zenfone AR. It boasts of most advanced mobile camera hardware in the market. It comes with a 23MP rear shooter, which comes equipped with Google's Project Tango TriCam system, featuring Motion tracking camera. It also houses a depth sensing camera with an infrared (IR) projector that lets Zenfone AR measure its distance from real-world objects.

Furthermore, it also has a set of advanced sensors and computer-vision software developed by Google that enables unique AR (Augmented Reality) user experiences on a smartphone, such as AR gaming, AR utilities, and indoor navigation. And, the phone also supports Google's Daydream platform for high quality, mobile virtual reality and Daydream VR (Virtual Reality) apps.
Though the camera's capabilities are limited in Indian market, as e-commerce firms are yet to embrace AR (Augmented Reality), Zenfone AR is the only phone in the market, which is future-ready.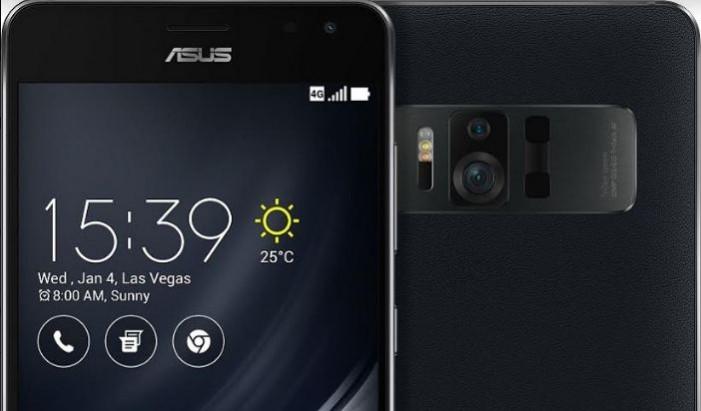 We got a glimpse of the AR capabilities with the iStaging app that came with the demo Zenfone AR model. We tried out placing a big wooden dustbin in the AR View option and it was magical.
You just to point the Zenfone AR's primary camera to a location, where you like to see it and voila, a virtual dustbin manifests on the designated place and you can roll in whichever angle you want, see how the device looks in all three dimensions. This is a game changing feature.
Until e-commerce firms launch the AR feature, you can try 3D-based AR games on the Zenfone AR. In the near future, you will be able to embed your face for an immersive gaming experience.
Asus Zenfone AR (Google Project Tango v2.0)-Battery:
Asus Zenfone AR comes with 3,300mAh (non-removable) battery and boasts of BoostMaster Fast Charging, which can achieve 60% battery capacity in 39 minutes (18W).
Asus Zenfone AR (Google Project Tango v2.0): Initial Verdict
Since we had very limited testing time, we are not in a position to pass judgement on the performance. Having said that, the AR and VR capabilities of device are awe-inspiring and in our opinion, it is a true flagship phone. Asus phone has both the power and also innovative features to out-rank any flagship rival in the market.
We will post a full review of Asus Zenfone AR (Google Project Tango v2.0) soon. Stay tuned.