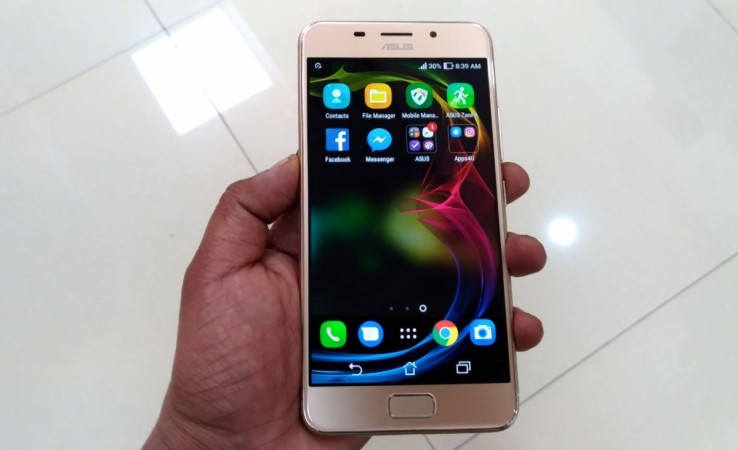 It's been less than three months since Asus launched the battery-centric Zenfone 3 Max in India. Now, the company is planning to release new version with more power in the country next week.
Before it could officially make its debut in India, Asus has given us the opportunity review unit to test the Zenfone 3s Max (ZC521TL). We have been using the new phone for more than two weeks and are ready with the verdict.
[Note: Zenfone 3s Max's price and availability details is confirmed to be announced on February 7]
Asus Zenfone 3s Max build quality and design review: (4.9/5)
Like all the Zenfone 3 series released in the past few months, the new Zenfone 3s Max shares similar design attributes and build quality wise, as well. It comes endowed with copious amount of metal (high-grade aluminium) and also boasts visually appealing design language.
Further, the Zenfone 3 Max's display boasts an additional layer of 2.5D contoured Gorilla Glass shield, which not only protects the screen from cracking due to accidental drops, but also brings a feel of premium to the device's exterior looks.
The Zenfone 3s Max features a compact phone structure with curved corners having matte finish on the back, which helps the users have a good grip on the phone and also perform one-hand operation with ease.
In our Zenfone 3 Max (ZC553KL) model review, we were disappointed over the lack of back-lit capacitive buttons—recents, home and back—which made it difficult for users to navigate between multiple apps in the dark. Now, this issue has been fixed, as the company has re-positioned them inside the screen itself, where it will be lit at all time.
Read more:Asus Zenfone 3 Max (ZC553KL) review
Another key change we see in the Zenfone 3s Max over the Zenfone 3 Max (ZC553KL) is that the fingerprint sensor, which was placed on the back in the latter model, is now re-located to the front side (center) in the former variant, the very same space left empty due to re-positioning of capacitive buttons.
In terms of audio quality, Asus has done a commendable job of introducing ICE-power enhanced 5-magnet loudspeaker, which succeeds in delivering high clarity and booming sound. For better audio dispersion, speaker has been moved to the bottom edge (with Type 2.0 micro USB in the middle). In the original Zenfone 3 Max, the speaker grille was placed on the back, which caused sound to get distored when the device is placed on the table with back facing down. Now, this issue has been fixed in the 3S Max model.
On the top, it features lone 3.5mm audio jack. To its right side, the phone houses volume rockers (with up and down keys fused) and the power placed one top of the other. Whereas, on the left side, the company has incorporated dual-SIM tray slot with space for microSD card.
On the back, it features a curved square-shaped primary camera with dual-LEd flash on the top left corners and the Asus branding in the middle.
As far as screen is concerned, the Zenfone 3s Max sports 5.2-inch HD display having 450 nits brightness and also built-in blue-light filter to lessen the strain on the eyes for viewing the screen during low-light condition. On the top, it features Asus branding in center with sensors (and LED notification) to the left and the camera to the let and it features a rectangular fingerprint scanner, which also doubles up as home button at the bottom.
Asus Zenfone 3s Max Performance review: (4/5)
The new phone houses 1.4GHz MediaTek MT6750 octa-core processor with Mali-T860MP2 graphics engine backed by sumptuous 3GB RAM and 32GB inbuilt storage. If that is not enough, user can expand the memory up to 2TB via microSD card.
The use of MediaTek processor in the Zenfone 3s Max make it sub-par compared to its rivals (Xiaomi Redmi Note 4, Lenovo K6 Power and others). During our tests, it showed signs of lag when we binge watched high resolution videos and play graphics rich games for long hours.
During the benchmarking tests, it scored 39,154 points on AnTuTu performance testing app. And, on Geekbench app, the Zenfone 3s Max was able to get 571 and 2405 points in terms and single-core and multi-core tests.
Having said that, the Zenfone 3s Max will not disappoint average users who use the phone for normal day-to-day activity, which includes few minutes of gaming (Angry Birds, Temple Run, Candy Crush... etc) session, internet browsing, app loading, switching between multiple apps. During our testing, which involved all the above, it showed no sign of lag.
And the most importantly Zenfone 3s Max users can have a really long hours of voice and video calling thanks to an amazing 5,000mAh battery.
Further it runs on the latest Android 7.0 Nougat, which comes with its own battery optimisation features to extend the battery and also offer value-added features such as night mode, bundled notification, enhanced security update, multi-window options and more.
We have one qualm with the Zenfone 3s Max, is that Asus has flooded the phone with a lot of un-necessary apps, which takes lots of space, leaving less than 24GB out of the total (32GB) storage.
But, the incorporation of Mobile Manager app in the phone is master stroke by Asus, as it intuitively tracks all app working in the background and if its finds a particular application is consuming resources (RAM) disproportionately, Mobile Manger will kill it, so that phone perform efficiently at all time.
Asus Zenfone 3s Max Camera review: (3.5/5)
The new Asus phone come with 13MP camera with f/2.0 aperture, 5P Largan lens, dual-LED real tone flash, full HD video recording, HDR (High Dynamic Range) and Super Resolution capability.
On the front, it houses 8MP shooter with 85 degree field of view (FOV), HDR, low-light image capture capability and beautification apps for selfies.
During our testing, it took fine quality images under bright light conditions, but same cannot be said about the camera in close environment. The camera seems to take additional time to adjust focus on the subject of the scene.
As far as front camera is concerned, it captures decent selfies and we were particularly happy with the 85-degree FOV feature, as people with short hands too can take group selfies with ease.
Asus Zenfone 3s Max Battery review: (5/5)
In this aspect, Zenfone 3s Max truly lived up its name. During the testing, we tried every possible tricks including binge watching full HD videos on YouTube with internet (via SIM) on and graphics heavy racing games and still was able to last one full day. If Zenfone 3s Max is used moderately, it will easily last up to three days.
Another interesting aspect of the Zenfone 3s Max is that, it can reverse charge another phone, which makes the phone even more appealing to the user.
Asus Zenfone 3s Max review verdict (4.4) 4.5-Extreme battery power with eye candy design
Over-all, the new Zenfone 3s Max has impressed us in most of the aspects and Asus deserves to get a pat on the back for listening to users and critics. It has able to fix most of the shortcomings seen in the Zenfone 2 and initial variants of Zenfone 3 series, be it the incorporation of high-grade building materials and back-lit buttons on the front, respectively.
Now, the new Zenfone 3s Max phone, which we believe it to be the last of the Zenfone 3 series, looks refined and complete, and sets the stage for the new Zenfone 4 series to set new benchmark for later part of the 2017.
Last, but not the least, we were really impressed by its battery prowess. The Zenfone 3s Max battery life's truly sets a new benchmark in the mid-range phone category and reversing charging features further adds value to it.
With Rs. 14,999 price-tag, Asus Zenfone 3s Max is really one of the best mid-range phone out there in the market. We have no doubt that it will certainly impress salaried class buyers, who are looking for affordable phone with latest OS, good build quality and long lasting battery.
Pros:
· Really long lasting battery
· Stellar build quality and design language
· Comes with latest Android Nougat OS out-of-the-box
Cons:
· Inclusion of un-necessary apps, but this is subject to individual perception. For pure android lovers, it seems like a mess. But, for users who want to get more out of the phone, they will be able to find it very helpful.
Related