It's been close to a month since Zenfone 3 Max (ZC553KL) went on sale in India and we at IBTimes India had the opportunity to use it for the same amount of time.
Asus Zenfone 3 Max (ZC553KL) costs sports a 5.5-inch full HD (1920x1080p) resolution screen, Qualcomm Snapdragon 430 octa-core processor, 3GB RA< 32GB inbuilt storage, 16MP camera with Laser autofocus and an 8MP front snapper and a 4,100mAh cell, which is capable of keeping the phone running for about 35 days under standby mode, up to 20 hours on talk time (3G) and 4G/LTE web browsing, and 15 hours on video playback, the company claims.
Also read: Asus Zenfone 3 Review: New style icon among smartphones
Does the Zenfone 3 Max perform as claimed by the company? Read our verdict on the Asus' battery-centric phone:
Design and build quality: (4.5/5)
Asus Zenfone 3 Max sports completely new design and refreshing compared to its predecessor Zenfone Max's dull faux leather cover on the back.
The new model comes endowed with copious amount of metal with eye-catching design language featuring sandblasted aluminium alloy-based smooth body with chamfered edges and yet repels finger smudges, a rare combination we see in the mid-tier category. The curved square-shaped primary camera (with LED flash) on top is positioned at the center and just below it, there is a fingerprint sensor with similar design form.
Down below, the phone features ASUS branding and the bottom edge, it features USB v2.0 port in the middle, and to its left, it houses a two-grille speaker, which brings out a well balanced audio out-put.
On front, it boasts 5.5-inch screen with full HD resolution and is covered with 2.5D Gorilla Glass shield, which not only brings touch of premium, but also acts as additional layer of protection to safeguard the screen from accidental drops.
As far as viewing images and videos on Zenfone 3 Max is concerned, it does not disappoint much. The colour re-production on the screen is good enough for a phone costing under Rs 18,000.
Only qualm we have is that the Zenfone 3 Max's screen's three capacitive buttons—recents, home and back, are not back-lit. It's very difficult to navigate between multiple apps in the dark.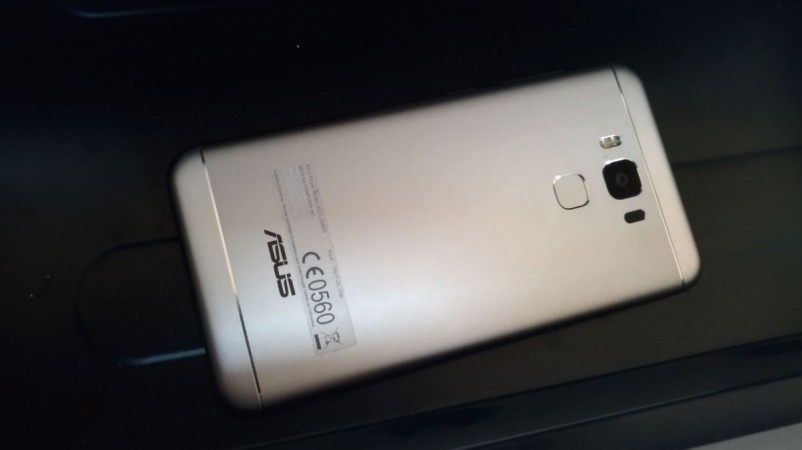 Battery: (4.5/5)
As said before, Zenfone 3 Max houses 4,100mAh battery, that's 900mAh less compared to its predecessor. Having said that, the new Asus phone does not disappoint in terms of battery-life. During our testing, it was able to last one and half days with moderate usage which included WhatsApp messaging, few minutes of video chat and voice-calling. If used more shrewdly, it can last two full days.
Asus Zenfone 3 Max can also be used as power bank; the company provides OTG cable for reverse power-transfer, as part of the device package. This is a welcome move by the company and we wish other rival firms to take a leaf out of Asus.
Camera: (4.5/5)
Besides the design language and build quality, Asus has done a fabulous job in Zenfone 3 Max's camera department. It's 16MP primary camera on the back stunning pictures and thanks to advanced laser auto-focus, the camera is quick focusing the subject, especially in the bright light condition.
But, under closed environment, the phone takes some time focus and the quality of the image too takes hit. Having said that, the end result is quite good enough for a phone in the sub-Rs 20,000 segment.
Also read: Asus Zenfone Zoom Review: Blend of high-grade hardware and near-perfect camera
On front, it houses 8MP shooter and it takes decent quality selfies and surprisingly, it's field of view is quite wide enough to take group selfies, even for somebody with short hand.
The company's PixelMaster camera app makes photography experience more enriching with its wide array of image editing tools and filters.
Performance: (3.5/5)
Though it boasts visually appealing design language, its CPU—Qualcomm Snapdragon 430 quad-core is underwhelming. Yes, it can perform all the day-to-day tasks and even while operating multiple apps. But, if pressed harder by playing games, it tends to show signs of lag.
Part of the blame has to do with Asus putting too many un-necessary apps in the phone, which the user never uses, but still these applications run in the background and hog RAM for resources, thereby slowing the device and some times, leading to overheating.
Thankfully Asus has incorporated Mobile manager, where users can kill the power hogging apps and optimise RAM usage and also extend battery life.
All-in-all, if the owners uses phone for normal activities like taking call and messaging (including internet-enabled WhatsApp), and few sessions of web browsing and gaming, Asus Zenfone 3 Max will not disappoint.
Verdict: (4.2/5)
With the Zenfone 3 Max, the biggest change we notice is its new design language. It is undoubtedly, one of the most visually appealing phone in mid-range category, but sadly its underwhelming CPU takes the shine off its looks. All-in-all, Asus phone gets our approval of being an above average for its price. If anybody is looking for new phone with premium looks and doesn't burn a hole in the pocket, you can go for Zenfone 3 Max.
Pros:
Excellent battery life
Gorgeous design language
Very good camera setup
Cons:
Snapdragon 430 quad-core CPU is sub-par for a device priced Rs 18,000
ZenUI needs to get rid of unnecessary apps
Capacitive buttons are not back-lit