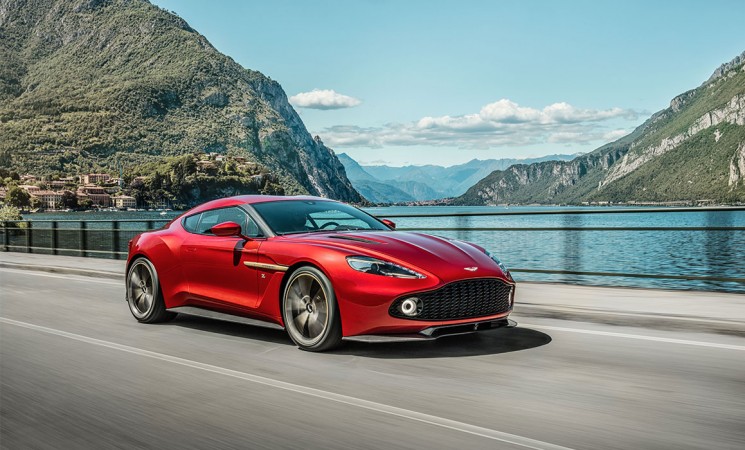 Responding to the customers' interest in the Vanquish Zagato concept at Concorso d'Eleganza Villa d'Este last month, Aston Martin has decided to go ahead with the production spec version, which will be limited to 99 units. According to a company's release, each car will be built to order at Aston Martin's production facility in Gaydon.
Vanquish Zagato is the fifth car to be built by the collaboration of Aston Martin and Zagato that stretches back over five decades. The company says Vanquish Zagato's bodywork is entirely shaped from carbon fibre, with the split lines on the body reduced by the use of large one-piece panels. New lights include round tail light reflectors, a signature design aspect of Zagato design. It incorporates "bladed" LED technology as seen in the company's Vulcan track-only supercar. Vanquish Zagato concept features One-77 inspired wing mirrors. The rear-end is similar to the latest Aston Martin production car, the DB11. The rear features a retractable spoiler and quad-exhaust pipes, while a carbon-fibre sill that runs around the lower body creates masculine appeal.
The interior of the car also received updates in Zagato fashion. The vents and rotary dials look premium with Herringbone carbon fibre with anodised bronze and aniline leather. The car has a unique "Z" quilt pattern stitch used on the seat and door sections, while the trademark Zagato "Z" logo has been embossed on headrests and stitched into the centre console.
The British car maker has updated the naturally aspirated V12 engine to 592bhp, along with enhanced driving dynamics in the Vanquish Zagato. The regular Vanquish's engine develops 568bhp. The engine is coupled with eight-speed automatic gearbox with electronic shift-by-wire control system.