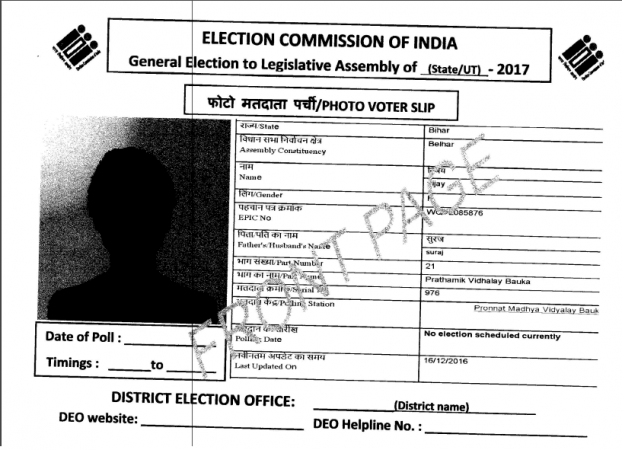 Gone are the days of small voters' slips with barely visible photographs of voters. The Election Commission of India (ECI) has decided to add new features to voter slips before elections in five states, Goa, Manipur, Punjab, Uttarakhand and Uttar Pradesh, take place in 2017.
Also read: 17 things you need to know about Election Commission's new initiatives
Soon people will get their voter slips in A4 size sheets with a picture of the polling station on Google Maps. The aim behind doing so, the ECI says, is to enhance the effectiveness of the photo voter slips as an important instrument of voter facilitation and awareness.
The design of the voters' slip will be more informative for voters, the ECI said. The voter slip is also expected to help in voter identification on polling days.
The existing size of the voter slip has been substantially increased, with a much larger photograph of the voter for better and easy identification.
The voter slip will be printed in the size of half of A4 paper 8 inches by 6 inches.
The slip will be printed with proper accounting on both sides, showing the front and the reverse print.
The states have been instructed to use good quality paper for printing the slips.
The chief state electoral officers have also been asked to ensure that the printing quality is of high standard to ensure clear, legible and unambiguous image and content.
Further, to aid and guide the voters regarding the polling station location, the snapshot of polling station's Google Maps has been added to the reverse of the voter slip.
The reverse side also contains other crucial information and Dos and Don'ts for the poll day.
The ECI also gave instructions for polling that is citizen-friendly.
Those in queue at closing time of the poll will be allowed to cast their vote to highlight their "No voter to be left behind" motto. There will be separate queues for women, while elderly will be given priority.
Visually and physically challenged voters will be allowed to take an adult companion inside the polling booth to cast their votes.
As per existing guidelines, gadgets like mobile phones and cameras won't be allowed inside the polling booth.
They also announced that accepting money or other favours to vote for a particular candidate is illegal.