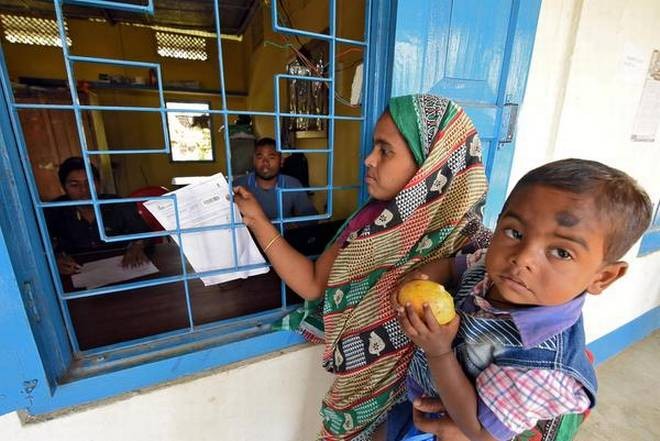 The stage is set for the publication of the National Register of Citizens or NRC for Assam at 10 am on Saturday, August 31. The list, to identify whether a person residing in Assam is actually an Indian or a foreigner, will include names of all people who were able to prove their citizenship. The final NRC list comes 13 months after the Complete Draft NRC was published on July 30 last year.
Security has been tightened across the state of Assam. Thousands of paramilitary personnel and police have been posted across the north-eastern state bordering Bangladesh. Prohibitory orders under Section 144 Criminal Procedure Code (CrPC) is in places in vulnerable areas of the state, including Guwahati.
Assam NRC is expected to be the second-biggest move of the Narendra Modi-led BJP government's after striking down Jammu and Kashmir's decades-old autonomy. Follow ibtimes.co.in for Live Updates on Assam's final NRC list.
Live Updates
2019-08-3114:11 (IST)
Assam NRC won't help get rid of foreigners: Himanta Biswa Sarma
Senior BJP leader and Assam minister Himanta Biswa Sarma said that the NRC list -- to drive out illegal immigrants -- cannot be viewed as a "red letter" for the Assamese society. Sarma also stated that the central and state governments were devising new ways to eliminate foreigners as the NRC had not met the wishes of genuine citizens. "We just want the NRC to pass off well, peacefully, and we will ensure it, but this NRC won't help us get rid of foreigners," Sarma told NDTV.
2019-08-3112:32 (IST)
Excluded from Assam NRC final list? Here's what you can do
Over 19 lakh people have been excluded from the final NRC list. The people will now have to file appeals in the Foreigners' Tribunals and also provide documentary evidence, showing that they meet the citizenship requirements of the National Register of Citizens.
The cut-off date for citizenship under Assam NRC is March 25, 1971. This means that anybody who was born in the state of Assam before this date, or whose parents were born in Assam before this date and had their names registered in the voters' list, will be eligible to be included in the NRC. But, if one fails to provide documentary evidence for this, they will be excluded from NRC.
However, people can also approach the Guwahati High Court or even the Supreme Court in case they are not satisfied with the response of the Foreigners Tribunal.
2019-08-3112:16 (IST)
3.11 crore included in final NRC list, 19.07 lakh excluded
The Assam's National Register of Citizens or NRC is out now. More than 19 lakh people have been left out of the final list and 3.11 crore out of 3.29 crore are included in the crucial citizens' list. This is the second citizens' list published in the country after 1951.
Prateek Hajela, State Coordinator, NRC said, "A total of 3,11,21,004 persons found eligible for inclusion in final NRC leaving out 19,06,657 persons including those who did not submit their claims. Those not satisfied with the outcome can file an appeal before Foreigners Tribunals."
2019-08-3112:04 (IST)
Check your name on NRC website
To check your name on the NRC website, click here
2019-08-3110:28 (IST)
NRC final list is live
The final list of National Register of Citizens (NRC) has been published on nrcassam.nic.in.
2019-08-3109:35 (IST)
Thin line between nationalism and xenophobia: Shashi Tharoor on Assam NRC
"There is a thin line between nationalism and xenophobia —besides, hatred of the foreigner could later turn into a hatred of Indians different from oneself." -- Rabindranath Tagore. The prescience of a great man!" tweeted Congress leader Shashi Tharoor on Assam NRC.
"There is a thin line between nationalism and xenophobia —besides, hatred of the foreigner could later turn into a hatred of Indians different from oneself." -- Rabindranath Tagore. The prescience of a great man! #NRC

— Shashi Tharoor (@ShashiTharoor) August 31, 2019
2019-08-3109:30 (IST)
How and where to check your names on Assam NRC
The list -- to identify the bonafide citizens and weed out illegal foreigners from Assam -- can be checked on the official website of Assam NRC, nrcassam.nic.in. READ FULL STORY HERE
2019-08-3109:29 (IST)
Assam NRC final list to be published at 10 am today